BioConference Live Hosts Renowned Inspirational Speaker Sean Swarner and More in October Conference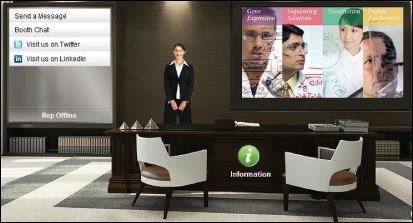 BioConference Live
has announced the official lineup of speakers for their upcoming virtual event, which includes renowned inspirational speaker, Sean Swarner, and many more high level speakers in cancer research. The BioConference Live virtual cancer research conference, slated for October 16-17, 2013, is an online event set to bring the cancer research community together via live video webcasts and real-time networking. This comes as good news to people around the world interested in learning new concepts, tools and techniques that they can apply to cancer research, diagnosis and more.
Sean Swarner has garnered international recognition for his personal story of inspiration as the first cancer survivor to summit Mt. Everest, and continues to defy the odds everyday. Despite being diagnosed with terminal cancer as a teenager, Swarner survived and turned his grim prognosis into a story of resilience and triumph. After conquering the highest point in the world, Sean again astonished the medical community when he went on to scale the highest peaks in North and South America, Africa, Europe, and Australia.
Sean remains a big draw as his motivational speaking engagements continue to inspire cancer survivors and researchers around the world. His keynote, "Keep Climbing," is set to be one of the most highly anticipated talks of the upcoming virtual event.
October's
conference
will feature talks from numerous top research scientists, post docs, and principal investigators from throughout the cancer research community, including:
Donald Tindall, PhD, Professor, Director & Vice Chair of Urologic Research, Carl Rosen Professorship in Urology, Departments of Urology, Mayo Clinic College of Medicine. His keynote: Prostate Cancer: How tumors survive in the face of current therapy.
Dan Rhodes, PhD, Head of Medical Science Informatics, Life Technologies. His Keynote: A bioinformatics Approach to Clinical Sequencing
Milan Radovich, PhD, Assistant Professor, Department of Surgery, Division of General Surgery, Indiana University School of Medicine. His keynote: Transcriptome sequencing in translational oncology research
Charles M. Perou, PhD, Distinguished Professor of Genetics, Scientific Director of Genomics and Bioinformatics, University of North Carolina School of Medicine, Lineberger Comprehensive Cancer Center. His keynote: Breast Cancer Genomics and Genetics.
Anna Barker, PhD, Co-Director, Complex Adaptive Systems Initiative, Director, Transformative Healthcare Networks, Professor, School of Life Sciences, Arizona State University (ASU). Her keynote: Is Personalized (Molecularly-Based) Medicine our Best Hope to Finally Defeat Cancer?
George Poste, DVM, DSc, PhD, Chief Scientist, Complex Adaptive Systems, Regents' Professor and Del E. Webb Chair in Health I, Arizona State University. His keynote: The Need for Critical Reassessment of Current Strategies for Cancer Therapeutics.
Patricia Hegerich, MS, Senior Applications Scientist, Digital PCR Technology, Life Technologies. Her talk: Highly precise copy number variation for cancer research with chip-based digital PCR.
BioConference Live has been highly praised by professionals throughout the life science and clinical diagnostics community for its ability to effectively unite experts around the world. Scientists and researchers are increasingly drawn to the cost/time benefits of utilizing live video webcasts and real-time networking over customary face-to-face formats. The costs of travel and lodging have traditionally impeded a great deal of collaboration between the world's leading minds, however technological innovation is rapidly breaking down these barriers.
More than in any other time in history, professionals have broader access to the latest in science research, where they can generally better stay abreast of the most current events in science and technology pertinent to their field.
About BioConference Live:
Founded in 2009,
BioConference Live's
vision was to connect the scientific world leveraging a unique virtual platform, discovering meaningful collaborations across geographic boundaries and fields of expertise. BioConference Live has grown into the world's largest producer of virtual events within the Life Sciences and Clinical Diagnostics community.
LabRoots
is the owner and producer of BioConference Live, and is the leading scientific networking website designed to connect all science verticals. For more information, visit
http://www.labroots.com/
or follow them on Facebook, Twitter, LinkedIn, or Google+.