Dr. Tansavatdi Announces Future Laser Facelift Events After Recent Success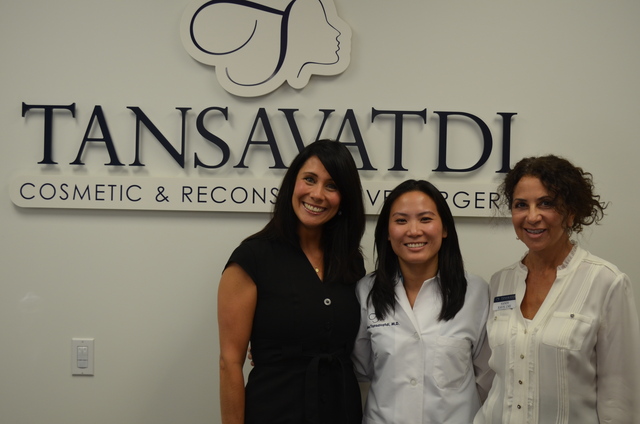 Westlake Village, California - October 4, 2013 - Dr. Kristina Tansavatdi held a Laser Facelift Event on September 12th. The event was very successful and Dr. Tansavatdi has announced another event to be held in the next 2 or 3 months. This will be a great opportunity for anyone considering cosmetic surgery to talk to the doctor and learn more about offered procedures and products.
As part of the event raffle, Dr. Tansavatdi gave away about $8000 worth of prizes. Everyone won a gift ranging from skin care products to procedures. One lucky patient received the Grand Prize of a Laser Facelift procedure. After the prize raffle, the procedure was further explained and featured in video and PowerPoint presentations by Cynosure. The guests were shown many of the amazing benefits of the Precision Laser Facelift compared to a traditional cosmetic facelift such as comparable results with minimal downtime. Additionally, the specialized design of the laser allows the surgeon to precisely treat areas of the lower face and neck. The tissue exposed to the laser is stimulated to produce collagen, rejuvenating and tightening the skin. Over time, lines and wrinkles are dramatically diminished. Unlike traditional facelift surgery, the laser procedure only takes an hour, and the patients heal quickly with minimal downtime.
Dr. Tansavatdi's office additionally offers other surgical, non-surgical, and skin care treatments such as traditional facelift, eyelid lift surgery (or blepharoplasty), nose reshaping (rhinoplasty), brow lifts, neck lifts, facial fat transfer, lip augmentation, Botox©, Dysport©, lip enhancement, skin resurfacing, dermal fillers, and chemical peels. Patients with a variety of skin care concerns can undergo treatments tailored to their individual skin type and receive the highest quality skin care products to meet their specialized needs.
Cosmetic surgery has come a long way in the last few years. Lasers and other advances have shortened the healing process and made procedures affordable for many more patients, providing countless opportunities to look their best. Dr. Tansavatdi's entire staff is dedicated to serving their patients with the most state-of-the-art cosmetic care available.
Because of the success of the Sept 12th event, Dr. Tansavatdi and staff are gearing up for their next event, which will be held in November or December of this year. This event will feature another educational presentation with many fabulous door prizes. This educational event is the perfect place to start for those considering cosmetic surgery. Many prospective patients do not usually have the opportunity to be personally educated by such an accomplished surgeon.
Dr. Kristina Tansavatdi is a fellowship-trained facial plastic and reconstructive surgeon. She completed her internship and residency training in Otolaryngology – Head and Neck Surgery. She is well-respected in her field, and has contributed to several medical publications. In addition to managing her successful practice, she donates time and expertise to medical missions around the world and to FACE TO FACE: The National Domestic Violence Project. Dr. Tansavatdi's friendly staff also includes Master Esthetician and Certified Massage Therapist, Sandi Ravis, who shares Dr. Tansavatdi's passion for delivering outstanding, specialized care to her patients.
For more information go to
www.facesbydrt.com
, or call (877) 278-0280
Email Dr. Kristina Tansavatdi