Scoliosis Journal Publishes Study About Effectiveness of Alternative Scoliosis Brace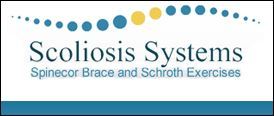 According to a study published in the Scoliosis Journal,
flexible scoliosis braces are indeed effective
for large adolescent idiopathic scoliosis. This alternative treatment option, touted by Scoliosis Systems LLP stabilizes the spine by re-training movement patterns while holding the spine in a corrected position. According to the study, successful correction was achieved in 80.8% of patients with small curves compared, 62.9% for moderate and 46% for large curves.
"Scoliosis braces do not need to be rigid to be effective and this study should be very reassuring for young patients and parent who choose a flexible brace to manage scoliosis," said Dr. Lamantia, founding member of Scoliosis Systems LLP. "We also found that because our scoliosis brace is much more comfortable than the traditional back braces, patients tend to wear it for longer periods of time contributing to effective and long-lasting reversal of the curvature associated with Scoliosis."
In 1994, The Spinecorporation developed the first dynamic flexible scoliosis brace, designed to be worn under the clothes, it allows for improved movement and control of the spine. This brace eliminates muscle atrophy while increasing tone in a corrected posture. In 2004, Dr Marc Lamantia and his colleagues fitted the first adults in the brace, and found it to be effective in the management of pain while improving quality of life scores.
Younger candidates with smaller curvatures are also considered ideal for this alternative treatment option. When patients are still growing, dynamic bracing can effectively influence reshaping of the vertebral bones, making the corrections achieved permanent. These braces are custom fitted and configured specifically for each patient depending upon the location and direction of the scoliosis. "Because this brace is designed to re-educate movement it is best fitted by a professional with a depth of understanding in bio-mechanics and the neurology of posture", says Dr. Lamantia.
For more information about Scoliosis Systems LLP and their 15 treatment facilities, visit
www.scoliosissystems.com
.
About Scoliosis Systems:
Dr. Lamantia and his associates are founding members of the International Society of Scoliosis Orthopedic Rehabilitation (SOSORT) and are the world's experts in alternative Scoliosis treatment for both children and adults. They make themselves available in 15 regional centers throughout the United States, seeing all scoliosis patients personally. Patients and families are given the tools and information necessary to live successfully with Scoliosis, while avoiding the need for rigid braces or surgery.