SAFE@home Announces New Website and One Full Year of FREE Monitoring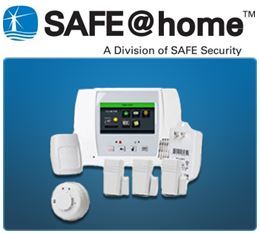 The home security system famous for being "out of the box," self-installed, and inexpensive compared to others, now features a brand new website with the following sections: Equipment Packages, Why & How, About Us, Support, and Contact Us.
"This
out-of-the-box system can be set up in minutes
," said Karen McQueen, Marketing Manager for SAFE@home. "No more waiting for technicians, just a flexible system that fits with your lifestyle." McQueen urges people to sign up now and enjoy one year of free professional monitoring for the first 25 customers that order one of the packages.
Customers with limited budgets should consider the basic Protection package. "For $24.95 a month for monitoring for one year, you can protect your family from intruders, acts of God, and conditions that threaten their life and safety," said McQueen. "Of course, if you wish to integrate home automation features like temperature control, lighting, and security, our self-contained Automation Package system with the benefits of a Z-Wave technology may be exactly what you need, and it only costs $32.95 a month."
For some customers it's not enough to have their homes monitored, they need to see what's going on in their residences. McQueen recommends the $37.99 a month Video Package, also using Z-Wave technology. "Seeing is believing, imagine you're on vacation and you want to check out your living room. With the Video package you can monitor the included IP Wireless Camera from your iPhone and other electronic devices." She adds, "you can also set it up to monitor activities such as your teenager coming home from school."
All packages come with optional equipment such as outdoor cameras, smoke detectors, CO detectors, motion sensors, key fob, among other home automation sensors and modules. SAFE@home systems are manufactured by Honeywell. The Free Monitoring for One Year promotion is limited to the first 25 new SAFE@home customers.
About SAFE@home
Internet-based SAFE@home is a division of SAFE security,which has been providing homeowners peace of mind since 1988. The company has been serving the needs of more than 70,000 customers with alarm systems and monitoring. Learn more at 1-855-349-7233 or visit
www.safeathome4u.com
.