"Creative diary" - IED International Master scholarships in Italy and Spain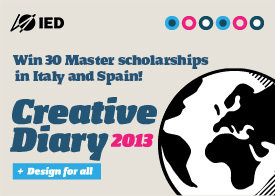 "Creative diary" - IED International Master scholarships in Italy and Spain.
A daily showcase for young creatives from across the world who compete to win 30 IED international scholarships for its master courses for the 2013-2014 school year. They will be able to study in Milan, Rome, Turin, Cagliari, Venice, Florence, Como, Madrid and Barcelona.
This competition is open to young international students. IED will reward young talented people aged between 22 and 40 years with master courses in its schools of Design, Fashion, Visual Communication and Management.
IED calls young creatives to develop ideas and projects under the main concept of "Design for all". Please apply this concept to your chosen area of studies, i.e. Fashion, Design, Visual Communication, Management.
"Design for all" means that you have to define an inclusive concept, and when approaching your design project you must think how to incorporate those people and objects that are usually out of the general context into your work. Our goal is to show that design is an all-encompassing concept that includes everyone regardless of age, race, gender, language, religion, social class or disability.
"Design for all" is also a democratic project, as it aims to provide quality accessible pieces for often excluded people that need more quality and high level of creativity.
The projects and images selected will be published on the web-site
www.creativediary.net
and can receive ratings, comments and be endorsed by internet users through their Facebook newsfeed.
A jury of experts will award scholarships to the best works. The deadline for submitting projects is the 20th November 2013.
Find out more on how to participate at
http://creativediary.net
.