Peak Medical Currently Uses FDA Approved Hyalgan to Treat Knee Pain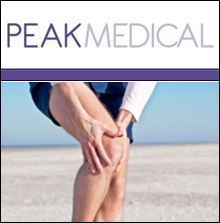 Berkeley Heights, NJ – Peak Medical is proud to announce their doctors now use FDA approved Hyalgan to treat knee pain. Hyalgan is appropriate for
people with knee pain who do not gain adequate relief
from simple pain relievers, exercise or physical therapy.
Debilitating knee pain keeps thousands of New Jersey residents from working and doing the things they love. Many people with knee pain want to avoid medications that make them sleepy or that could be addictive. Others want to avoid knee surgery for as long as possible. Hyalgan belongs to a class of products known as hyaluronic acid or sodium hyaluronate, which doctors know to be beneficial to joint function.
Healthcare specialists administer Hyalgan by injection directly into the knee joint. A healthy knee joint contains thick synovial fluid that acts as lubrication within the knee joint. Hyaluronic acid is a major component of synovial fluid. Osteoarthritis breaks down synovial fluid to make it a less effective lubricant. Scientists are not completely sure how Hyalgan works but most believe it helps restore synovial fluid back to a healthy, functional state. Most patients experience optimal pain relief and restored joint mobility after receiving three to five injections one week apart.
The professionals at Peak Medical have extensive experience in providing pain relief, offering a variety of services including acupuncture, chiropractic care, deep laser therapy, carpal tunnel syndrome treatment, and more. Peak Medical is now New Jersey's premier pain management center and is well qualified to identify patients who might benefit from Hyalgan therapy. This non-surgical treatment for knee pain complements physical therapy and other forms of therapeutic treatments offered by Peak Medical.
About Peak Medical:
Peak Medical is the premier pain relief clinic in Berkeley Heights, NJ. This multi-doctor, multi-disciplined medical center offers a variety of services including Chiropractic, Applied Kinesiology, Acupuncture and appointments with traditional Medical Doctors. The professionals at Peak Medical offer physical therapy, exercise, diet and nutritional services and more. For additional information please visit,
www.peakmedicalnow.com
.