Valiant Recovery Announces an Android Tablet giveaway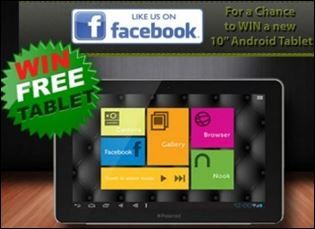 Kelowna, BC – Valiant Recovery, a leading drug and alcohol abuse treatment center in British Columbia, today announced it will be giving away a
10-inch Android tablet
to one lucky facebook follower who "likes" Valiant Recovery on the social media site between now and October 31. To enter, users simply need to visit the Valiant Recovery website and enter via facebook or email.
"This giveaway is a great opportunity for facebook users to help raise awareness about drug and alcohol treatment and recovery and win a valuable prize," said Royce Dockrill, CEO of Valiant Recovery. "Facebook followers who 'like' us in the month of October will be automatically entered into a drawing for the Android tablet. This is just a small reward for helping us spread the word about addiction and recovery."
Valiant Recovery facebook fans will also be able to benefit from current and relevant information about drug and alcohol abuse and recovery. Followers will learn how to spot the signs of addiction, hear about the latest treatment options and research in the field. By following Valiant Recovery on facebook users will not only be entered to win an Android tablet but will also have the benefit of staying on top of all the latest addiction and recovery information and having a source of help should they find themselves or a loved one in need of drug or alcohol rehabilitation.
To enter to win an Android tablet, visit
www.valiantrecovery.com
.
About Valiant Recovery
Valiant Recovery can help patients make their dream of sobriety a reality. Drugs and alcohol do not have to control your life, you can put this part of your life behind you for good when you choose the right program for your substance abuse treatment. A wide variety of options concerning therapy is essential, and Valiant Recovery offers many treatment options. Valiant Recovery is nothing like the usual substance abuse treatment facilities. An elegant and luxurious atmosphere, and a large professional staff that actually cares, also set this rehab far above most. You will get the personal attention and help that you deserve, so you can get back to your life and the really important things like family.