Lear Capital Releases Exclusive Polar Bear Coin Gold and Silver Proof Set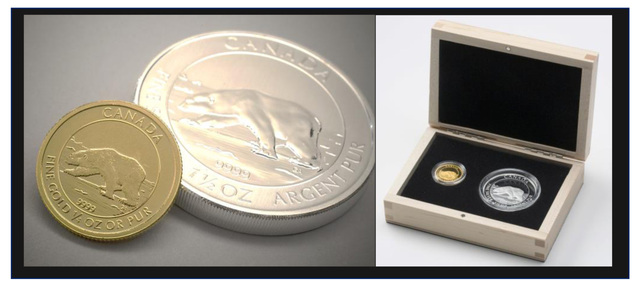 Lear Capital (
www.learcapital.com
) has introduced a very limited proof coin set depicting the powerful and majestic polar bear moving through the arctic wilderness. A coup for collectors and investors alike, these coins are pure numismatic mastery. Presented in a wooden collector box, the handsome double coin, double metal set is a product of the Royal Canadian Mint.
Lear has a strong polar bear coin tradition which began last year when they were the first to introduce the 1.5 ounce silver polar bear coin in the United States. A popular oversized, investment grade and IRA eligible coin, it was launched exclusively through Lear Capital and quickly followed by the gold polar bear earlier this year.
Proof coins have no equal in terms of detail, brilliance, clarity and shine. They reflect the highest quality that a mint can output, and they are produced in a different way than standard coins. The proof blanks are first polished and cleaned and then struck with specially treated dies multiple times to yield an extraordinary high level of detail.
The polar bear's design seems particularly suitable for a proof set presentation. The sharp rims, high reliefs, smooth fields and mirror finish of a custom die proof, capture the essence of the deep arctic landscape and polar freeze. You can feel the ice and claws of the raised images as the often solitary polar bear is depicted traversing the frozen tundra. Both coins have been double struck in pure gold and silver and carefully polished to a dazzling shine. The gold coin is a pure ¼ ounce of fine gold while the silver coin is a hefty, 1.5 ounce of fine silver.
This exclusive polar bear proof coin set is extremely limited and is only being offered through this single engagement until sold out. There are no inventory reserves or "set-asides" and purchase is limited to three sets per customer. Lear is particularly proud of these stunning polar bear proof coin collectibles and expects to sell out quickly. Collectors and investors can reserve their Gold and Silver Polar Bear Proof Sets by calling Lear Capital directly at: 1-800-576-9355.
Lear Capital (
www.learcapital.com
) has been America's Precious Metals leader since 1997 helping customers diversify their portfolios with bullion, premium rare coins, physical gold and silver as well as precious metal IRA accounts. For investors looking to realign their asset allocation, maintain an aggressive hedge against global volatility, or secure tangible retirement protection, Lear Capital has a plan.
Lear Capital maintains an A+ rating with the Better Business Bureau and is a PCGS (Professional Coin Grading Service) Authorized Dealer. In addition, they abide by the NGC's (Numismatic Guaranty Corporation) coin grading Standard of Integrity, and support the ICTA (Industry Council for Tangible Assets) on issues of taxation, IRS regulations, and legislation that impacts all tangible assets.
Lear Capital can be contacted through their website at:
www.learcapital.com
or at 800-576-9355.
Email Outsource Marketing Group, Inc.