Micronet Selects Hydra's eTask -it to Manage its Project Management Office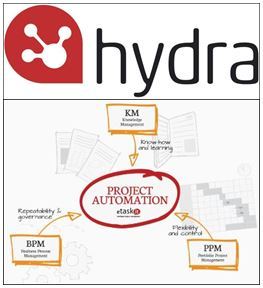 October 16, 2013 - Farnborough, UK – Micronet part of Ikusi Group, specializes in business consulting and technology and in the
design and installation of telecommunications solutions
. To manage its Project Management Office, Micronet selected Hydra's eTask solution.
"We are very proud of having been selected by Micronet," says Juan Manrique, CEO of Hydra "Micronet is a great company working with innovative technologies and a perfect match for eTask-it. Our focus is always to help companies to be more efficient and transparent in the way they manage their projects and processes. We will work closely with Micronet to support their implementation because we strongly believe that software is only part of the solution but it's the culture and the commitment of an organization that really make the difference."
eTask was selected because it is the only project management software that has a module that properly manages methodologies and frameworks and is configurable by projects. Micronet serves different types of projects and clients, and the versatility of eTask from Hydra is an added value for the company and its customers. It was also vital for Micronet that their project management tool integrates with other management systems, which eTask was able to do and enabled many tasks to be automated through integration with other systems.
According to Gabriel A. Diaz Ibarra, PMO Execution Manager of Micronet, "Local Latin implementation team was also a major factor in selecting Hydra for our project management office needs. Having a local Latin America implementation team that understand perfectly Latin business culture, is a significant advantage."
To learn more about Hyrda eTask and other project management tools, visit
http://www.hydra-management.com
.
About Hydra Management:
At Hydra, we have 20 years of experience, and the unique project resource management software that allows us to deliver consistent solutions that you can have up and running after only one week. Hydra project and resource management software offers consistency in performance, so that you get a fast return on your investment, typically in no more than six months. At the same time, it is user friendly and totally scalable. Start enjoying the benefits of our software in only one week and learn firsthand the value that 100 customers and 50,000 users from across three continents have already experienced.