centrexIT President and Chief Information Officer Named Among San Diego's Top 40 Under 40 by SD Metro Magazine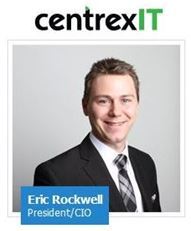 San Diego, CA – Today, centrexIT announced that the company's President and CIO, Eric Rockwell received the honor of being
named among San Diego's Top 40 Under 40 by SD Metro Magazine
. The 40 Under 40 is a group of men and women who represent some of the best and brightest minds of San Diego County. This year a record 115 nominations were received and Rockwell was among the select few to receive this great recognition.
"It is very humbling to be recognized by the community among the leading 40 personalities in San Diego under the age of 40," said Rockwell. "My fellow colleagues from the broad spectrum industries also recognized are among the leaders in their respective fields and it is a great honor to be included alongside such true professionals."
As president and CIO of centrexIT, Rockwell is the outsourced CIO for over 60 companies in San Diego, including the USS Midway, Balboa Nephrology Medical Group and Psychiatric Centers in San Diego. Rockwell creates technology road maps for companies which are then able to align them with their business plans. He designed and oversaw all of the technology for the 2012 "Battle of the Midway" NCAA basketball game and successfully migrated over 100,000 paper medical records to electronic health records at several large medical groups.
Rockwell is a member of the John Brockington Institute, and together with Balboa Nephrology Group, has helped change the outcome for families with lower means by donating technology resources and devices. Under his leadership centrexIT has also donated over 500 recycled computer parts over the past year and has won a number of prestigious business awards including Cisco Small Business Security Award, Microsoft Cloud and Virtualization Competency Award, N-Able Innovator of the Year Award and the HTG Innovator Award.
For more information about the industry-leading team of centrexIT direct by Rockwell, visit
http://centrexit.com
.
About centrexIT:
Founded in 2002, centrexIT is San Diego's leader in IT management. The locally-based technology professionals provide outsourced IT service, support, security and leadership for small and medium-sized businesses in the greater San Diego area. Twice awarded as one of San Diego's Fastest Growing Privately Held Companies by the San Diego Business Journal, centrexIT is also distinguished by its flawless A+ rating from the Better Business Bureau. centrexIT's successful buildIT™, manageIT™, cloudIT™, and growIT™ model incorporates best-in-class solutions to establish stable, scalable and secure environments.