New InciteMC white paper on "The Future of the Marketer" predicts turbulence, evolution for marketing executives in 2014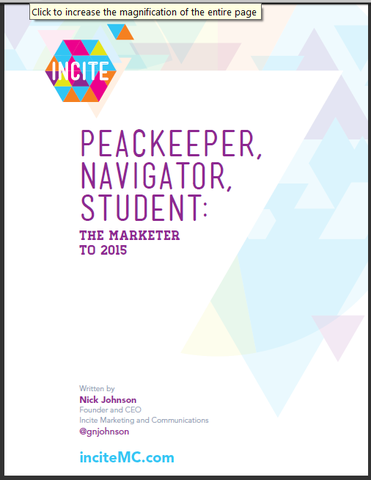 NEW YORK, New York (October 18, 2013) - For the first time, leading business intelligence firm Incite MC have released an in-depth study on the future of the marketing role within large corporations. Based on in-depth discussions with Chief Marketing Officers from Fortune 100 brands, along with feedback from over 1,000 marketing executives, the white paper details how the marketing role will evolve to 2015.
"The access to CMOs, and the response from our community, has been fantastic" said Nick Johnson, Founder and CEO of Incite MC. "The sheer amount of feedback we've got has allowed us to really dive deep into how marketing departments expect to change in 2014 - and get some really solid, evidence-based insights on the rapid evolution of the marketer's role"
The study highlights that marketers recognise turbulent times are ahead, with 88% saying they face significant internal and external pressures to evolve. The core reason for this turbulence is the increasing power of the customer, and thus the increasing popularity of 'customer-centric' practices in the boardroom. 92% of brands say their business must become more closely aligned to their customer in the years ahead.
This shift provokes turbulence for marketers in 2014:
BRANDS MUST INCREASINGLY 'BE WHERE THE CUSTOMER IS'
76% of brands recognise that their 'multi-channel' marketing approach is not as developed as it should be. Senior leaders recognise that "people simply aren't looking at [print, media and television] any more", and thus budgets for a more wide-ranging multi-channel approach are increasing, with 74% expecting budgetary increases in the year ahead.
DISTINCT MARKETING, COMMUNICATIONS AND CUSTOMER SERVICE DEPARTMENTS MUST BE REPLACED WITH A MORE CUSTOMER-CENTRIC ORGANISATIONAL MODEL
Customers have heightened expectations about their interactions with brands, expecting a speedy, consistent experience which draws on all previous contact they've had with a brand.
95% of respondents say multiple departments need to work better together to deliver this enhanced and unified customer experience. Specifically, 82% identify that marketing and communications departments must work better together in the coming year.
For more findings, please go to
the Incite site
.
Email Incite Marketing and Communications