Gardena Dental Group Treats 26,000Th Patient At Their Gardena Dental Office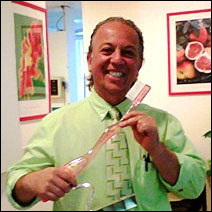 Gardena, CA — The Gardena Dental Group has recently announced that the group has treated its 26,000th patient, a landmark achievement for the dental group based in Gardena, California. By growing the practice to include 26,000 patients, the dentist office now ranks among the top 1 percent of all dental offices in the country in terms of its size.
The owner and primary dentist at The Gardena Dental Group, Dr. Amir Saz, began his practice just over 21 years ago and partly attributes the rapid growth of his practice to his commitment to using state-of-the-art technology.
"Over the years, we have consistently updated the equipment in our office to ensure that we are using the latest cutting-edge technology to treat our patients. Much of our growth is due to referrals, and that's something for which we're proud and very grateful," Dr. Saz said.
Dr. Saz's integration of new dental technologies has made the Gardena Dental Group one of the most state-of-the-art dental practices operating in Los Angeles County. The practice boasts an advanced sterilization room for cleaning instruments to ensure patient safety, and the practice uses digital x-ray equipment to reduce patient exposure to radiation by up to 90 percent. Many of the orthodontic, cosmetic dentistry and oral surgical procedures performed at the office are done with the assistance of intra-oral cameras and diagnostic lasers, which greatly improve precision.
"Patient care has always been our top priority," Dr. Saz said. "Even though we have grown in size since the day we opened, Gardena Dental Group has never lost the feel of a small practice. We know our patients' names, and we take our time to ensure that they are comfortable and fully understand what's involved in their treatments. Keeping that personal touch in dentistry is important to us."
Gardena Dental Group is accepting new patients from the South Bay area and serves the surrounding counties.
About Gardena Dental Group and Dr. Amir Saz, D.D.S.:
Gardena Dental Group is a state-of-the-art dental practice located in Gardena, California. The practice opened more than 21 years ago and serves patients throughout the Gardena area. Gardena Dental Group offers a wide array of services, including oral surgery,
orthodontics
, teeth whitening, oral cancer screening,
pediatric dentistry
, general dentistry, cosmetic dentistry, restorations and
dental implants
.
Dr. Amir Saz, D.D.S. is the owner and primary dentist at Gardena Dental Group. He attended the Georgetown University School of Dentistry in Washington, D.C. and graduated with a Doctor of Dental Surgery degree. Dr. Saz ranked at the top of his graduating dental school class and he is a member of many distinguished organizations, including the American Dental Association, the California Dental Association, the Academy of General Dentistry, the Harbor Dental Society and the I.A.D.A.
Email Gardena Dental Group