Uniwatches to Sell Sector, U-Boat, and D&G Watches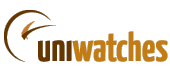 Uniwatches, an online Danish company known for its high quality and original watches, will be selling Sector, U-Boat, and D&G watches. These new additions to the company's wide collection of watches will benefit individuals who want to own a piece of watch that can meet their needs, taste, and personality. The watches that are being offered by the company are covered by a warranty and are guaranteed to last for many years with proper care and right usage.
Wristwatches are being regarded as the symbol of innovation, fashion, and prosperity. A good watch can be used as an excellent tool to showcase one's status and achievement in life. It is also an effective piece of accessory that can help individuals make a statement and leave a good impression among their peers. In order to make the most of the benefits that watches provide, individuals are advised to choose the best one that they can afford. Uniwatches is offering different types of high quality watches including gold watches, classic watches, military watches, and dive watches as well as watches for leisure and sports.
D&G watches (in Danish
D&G ure Uniwatches
) are just one of the brands of watches that the company offers. A lot of professionals and fashionable people are getting interested in owning a piece of Dolce & Gabbana watch due to its style, elegance, and innovative design. Uniwatches boasts D&G watches for both men and women and ship them free of charge. Aside from this, the company also features Sector watches including Wristwatch Shark Master, Wristwatch Centurion, Wristwatch Pilot Master, and Wristwatch Race for men. Individuals can also find different models of U-Boat watches such as Wristwatch U-42 ​​GMT, Wristwatch U-42, and Wristwatch Chimera. U-Boat watches are made with different straps and bracelets such as leather and rubber.
http://www.uniwatches.dk
features a broad range of watches in different brands including Adidas, Armani Exchange, Burberry, Casio, Diesel, Guess, Hugo Boss, Lacoste, Puma, Seiko, Timex, and Tissot. With its extensive collection, individuals can surely find the type of watch that they are looking for, be it a diver's watch, classic, digital, pilot, trekking, titanium, or sports watch. There is also a Pricematch that is available to all Danish customers.
Uniwatches is a Danish-owned company that takes pride in offering only the best quality original watches for men and women in the most reasonable price. Most of the watches that it offers come with a 2-year warranty except for Seiko, which comes with a 5-year warranty.