Madison Law Group Represents Boating Claims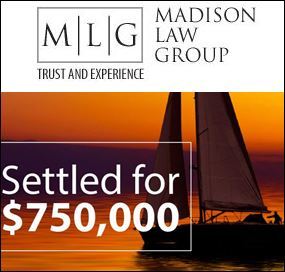 Los Angeles personal injury attorneys at Madison Law Group now offer complete
representation to victims of boating accidents
. In 2012 alone, 473 boating accidents occurred in California, and out of those, there were 53 fatalities and 247 injuries. These also resulted in over five million dollars worth of property damage. Even when recreational boaters take every possible precaution, boating accidents can still occur. When they do, it's important to know how to handle them.
Anyone who has been involved in a boating accident may need a personal injury attorney, as often boating accidents are caused by the negligence of a separate party. Victims of boating accidents can experience a range of injuries and losses. Some of these injuries include illnesses related to near-drowning, broken bones, head and spinal injuries, torn ligaments, and chronic back and neck injuries. Such conditions can result in lost wages, lessened quality of life, and contribute to a range of emotional and economic difficulties.
The experienced staff at Madison Law Group includes a number of qualified Los Angeles personal injury lawyers who can help boating accident victims receive the compensation to which they are entitled. In the beginning stages of the case, the attorney will ask the right questions to determine whether another party is responsible for the client's injuries, and the effects those injuries have had on his or her lifestyle. The attorneys at Madison Law Group possess the experience necessary to decipher complex medical reports as well as relevant knowledge of applicable laws to help a personal injury client establish a claim and recover some of the financial losses incurred by medical care and lost wages.
In addition to boating accident claims, the Madison Law Group also offers many more injury and accident legal services. Los Angeles clients looking for an auto, motorcycle, or other personal injury lawyer can contact the offices for a free consultation. Call 1-866-534-2591 or visit
http://www.madisonlawgroup.com/
for more information.
About Madison Law Group
Located in Los Angeles, Madison Law Group specializes in personal injury settlements and claim litigations. Founded by attorney Kyle Madison, the firm prides itself on being solely dedicated to personal injury practice. The experienced staff stays updated on the latest California personal injury laws, so as to better help clients obtain the results they deserve.