Sharper Cards Offers Gift Cards For up to $50 on Orders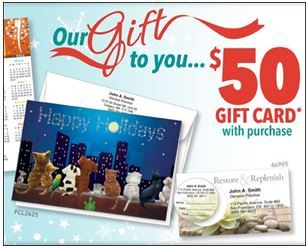 Calgary, AB – The holidays are the perfect time to say "thank you" to customers and promote product or service offerings. Sharper Cards rewards customers for planning their
seasonal marketing early with a gift card
of up to $50 on qualifying orders of $100-$500 or more – to go toward the next purchase with Sharper Cards. This is an excellent opportunity to buy personalized holiday greeting cards, 2014 calendars and customized giveaways that will help build customer loyalty.
Print marketing is one of the most cost-efficient and effective means of promoting products and services. Sharper Cards has a variety of personalized products real estate agents, dentists, chiropractors, insurance specialists and other service providers can send to their clients during the holiday season. These fun, personalized marketing pieces will be a pleasant surprise during the holidays and will keep a business top-of-mind all year long.
"It's the season to show customers we value their loyalty and business" said Jerry Nguyen, Marketing Specialist of Sharper Cards. "Customers who place an order of $100, will receive a $10 Sharper Cards gift card, $25 for orders of $250 and $50 for orders of $500 or more. This offer ends November 30, 2013."
Sharper Cards promotional materials are printed on high-quality stock and feature unique designs that will make any marketing piece stand out. Personalized calendars and greeting cards are nice gifts businesses can give their customers while also meeting their marketing goals.
To make an order and enjoy the gift card offer, visit
http://sharpercards.com/
or call 1-800-561-6677.
About Sharper Cards:
Twenty-seven years ago there were few options available for patient and client communications. Sharper Cards was created with one purpose in mind - to provide professionals with quality personalized communication cards that were both friendly and effective. Our first advertisement was a one page flyer with 12 card designs! Since then we have grown to a customer base of over 40,000 worldwide. We feature products like recall/reminder cards, birthday cards, appointment cards, magnets, business cards, sympathy cards, holiday cards, photo cards and more.