Exclusive to Italy: SKINPROJECT PyratineXR® by SEVENTY BG*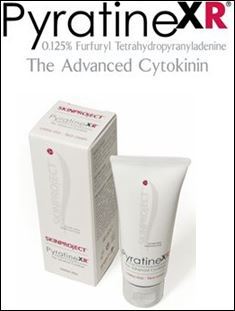 Clinical studies1, performed by major specialized Centers of Dermatology, demonstrate that the formulation provides multiple benefits for
people with sensitive skin, irritated, and inflamed
, even relieving the symptoms of patients with more complex inflammatory skin conditions such as rosacea, inflammatory acne, atopic dermatitis, melasma and eczema.
SKINPROJECT PyratineXR® is a cream formulation containing 0.125% of Furfuryl Tetrahydropyranyladenine, chemical analogue belonging to the family of cytokinins. The cytochinins, molecules that are found in almost all higher plants, focus more highly in roots and leaves. The molecular structure of cytokinin in Pyratine XR has been modified specifically to improve the effectiveness of anti-inflammatory and make it more rapid action ensuring greater effectiveness of the antioxidant activity and self-defense of the skin. An excellent result which has been confirmed in several clinical trials1.
"We launched the product earlier this year and we did not expect the welcome received by both specialists and patients", refers Biagio Giannella - President of the Seventy BG, the company holds the exclusive distribution in Italy – "We receive almost daily positive comments of satisfied customers and we have an excellent feedback even by dermatologists and aesthetic surgeons, our target audience, offering Pyratine XR as a successful solution to their patients."
"The first time I used the product I immediately had the feeling of rapid absorption. The skin remained dry but still well hydrated. As the days passed several reddened areas were normalized giving the face a new brightness. The texture is excellent, to the point that for sometime now I use Pyratine XR as a base for make-up and before going to bed, after the evening cleansing. I have not had need of other products. With routine use, morning and evening I noticed that even the parts irritated for the climate too dry or cold were homogenized in color and also to the touch", writes a 40 year old who started to use the cream for a problem of rosacea recommended by our dermatologists.
"The indications for use of this product in fact," says Dr. Lucio Miori - Dermatologist and Professor of the School of Aesthetic Medicine Agora of Milan - "ranging from disease, such as rosacea, in which
Skinproject Pyratine XR
® has demonstrated a valid support for the control of the clinical and vasomotor symptoms , as well as for erythema post-acne, the erythrosis of the face but also for more purely aesthetic issues such as the fractionated laser post-treatment of resurfacing , after chemical peels, microdermabrasion and other procedures for skin rejuvenation. "
*Seventy BG Ltd. is a company active since 2005 in the development of professional medical devices and innovative cosmeceutical products to be used in aesthetic medicine. With the collaboration of national and international universities and research centers, Seventy BG Ltd. has patented a line of professional products SKINPROJECT NANOPEEL ® for chemical peels which makes available the medical class nanotechnology for personalized treatments and methods of use easier and safer, without stress for the patient.
1 References:
Long-term Efficacy and Safety of Topical PRK 124 (0,125%) lotion (PyratineXR) in the treatment of Mild-to-Moderate Rosacea, Anne Marie Tremaine MD et al., Journal of Drugs in Dermatology, June 2010, Volume 9, Issue 6, 647-650;
Topical PRK 124 (0,125%) lotion for Improving the Signs and Symptoms of Rosacea, Arisa Ortiz MD et al., Journal of Drugs in Dermatology, May 2009, Volume 8, Issue 5, 459-463;
A Clinical Study of Topical Pyratine 6 for Improving the Appearance of Photodamaged Skin, Jerry L. McCullough PhD et al., Journal of Drugs in Dermatology, February 2008, Volume 7, Issue 2