Solutions Office Interiors Launches New Website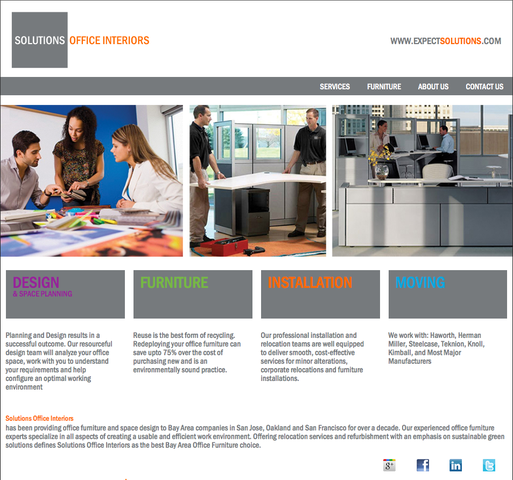 Solutions Office Interiors (
http://www.expectsolutions.com
) has a launched a new and improved online presence. The new website is designed to provide a user-friendly experience with a cleaner layout and easy-to-use navigation, allowing customers to access detailed information about Solution's products and services.
Solutions Office Interiors services include office space planning and design (learn more here:
http://www.expectsolutions.com/services/space_planning_design
), installation and reconfiguration of furniture, moving and relocation, repairing and refurbishing office furniture, and more.
The site incorporates a similar look and feel as the old design, but provides users an easier way to access product information. The launch of the new website offers faster access essential information about Solution's Office Interiors and is part of the organization's ongoing efforts to enhance the accessibility of information to their customers.
This site was created to put our users first, using the latest technology in web design and development. With a modern-day, colorful design the site is ready to cater to current and future customers, helping them purchase office furniture. In addition, it has made it easier to browse Solutions Office Interior's vast list of products, including used office furniture.
Using feedback from customers, Solutions Office Interiors was able to design this site to provide richer online content that is easier to navigate and share with others across the web.
Visit the new
inventory
page and give us your feedback on the new website by posting a comment on the official Solutions Office Interiors
Google Plus page
.
About Solutions Office Interiors, Inc.
Solutions Office Interiors was founded in the heart of the San Francisco Bay Area's technology sector in just a single storage shed in 2003 and has rapidly grown to a regional one-stop office interior solutions provider. The company focuses its in-house services on helping commercial clients define, design, implement, and install the perfect office environment to enhance business flow and a client's unique culture. The experienced office furniture experts at Solutions Office Interiors handle all aspects of interior office projects ranging from design, installation, refurbishing, and support to project management. Offices now include a fully equipped 35,000 square foot warehouse with 25,000 square feet of additional storage space in Fremont, CA.
Email Solutions Office Interiors