Sydney goes Manhattan with new inner-city residential high-rise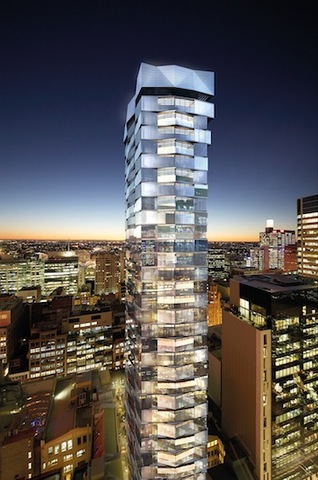 Sydney, Australia: Sydney will add another distinctive landmark building to its skyline, with the announcement of the $AU 90 million high-rise
York&George
residential development right in the heart of the CBD.
The tower will be built on a site running from George Street - the city's main commercial hub; through to York Street - one of Sydney's key historic areas. The sensitive blend of contemporary design with the stately historic architecture of existing buildings at street-level has been core to the project's approval.
The first six floors will include a mix of retail and commercial space, with a tower above including 199 apartments in various configurations and sizes.
Developers Fife Capital drew together an expert team including award-winning John Wardle Architects, to create a striking design, with the building façade undulating from level to level and appearing to have a glittering 'weave' pattern.
Residents will enter via York Street through a restored, rare historic cartway, before arriving at a private Sky Lobby with concierge on Level 6. Faciliites include a landscaped Sky Garden with gym, pool, barbecue on Level 5.
This week's approval makes it the most progressed of the new residential projects planned for Sydney's business centre.
Fife Capital Chief Investment Officer Allan Fife said: "This style of living – close to work, great restaurants, a huge selection of convenience through to luxury shopping, and easy transport links – is growing in appeal for Sydney-siders who want to experience the 24-7 city."
Views from the apartments will offer a mix of ever-changing inner city panoramas aswell as Darling Harbour, The Parramatta River and the historic and iconic Queen Victoria Building. The building sits within the city's established 'brand' precinct, with a plethora of global consumer and high-end luxury names within a 5 minute walk - from Apple to Louis Vuitton at one end of the block, to Bulgari, Chanel, Gucci and Prada at the other.
Peter Chittenden from selling agents Colliers International expects interest from local and offshore buyers seeking a keen Australian investment.
"York&George will put its residents right in the dress circle of the inner CBD. Sydney is undergoing gradual transformation of the working CBD into a 24-hour global, liveable city and the project sits right in the midst of that change," he said.
The project is right at the nexus of major bus and train routes and is adjacent to the planned route for the George Street light rail network.
For sales information visit
http://yorkandgeorge.com.au/
. Call 1800 733 620 to register interest and book to visit the sales suite at 38 York Street.
FOR A FULL MEDIA KIT:
Holly Reynolds, Left Field Public Relations
holly@leftfield.com.au
, +612 9331 6671 or +61 (0) 409 462 112
Email Left Field Public Relations