Founder's Day Celebrations with YCIS Shanghai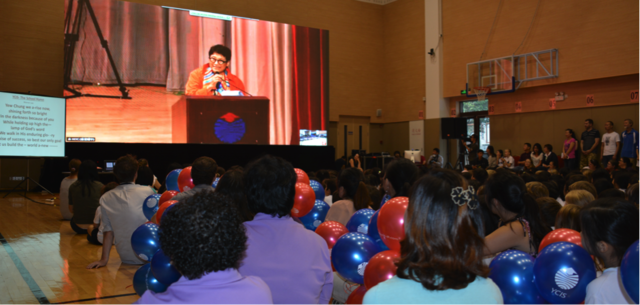 October 26, 2013 - On 11th October 2013,
Yew Chung International School of Shanghai (YCIS Shanghai)
celebrated the founding of the Yew Chung International School (YCIS) schools. The Founder's Day Celebration took place at all YCIS locations, with more than 5,500 students and 1,500 teachers and staff connected virtually to commemorate this milestone in Yew Chung history. Dr Betty Chan, the Director of the Yew Chung Education Foundation spoke thoughtfully and passionately of her mother, founder Madam Tsang Chor-hang, and their shared dream and vision for Yew Chung. A live video broadcast that included all school campuses connected students and staff all around the world, with each school displaying their "Yew Chung school spirit" in their own way. YCIS Shanghai then held a number of activities and games throughout the day, all helping to celebrate the joyous event.
Yew Chung International School (YCIS) campuses in Hong Kong, Shanghai, Beijing, Qingdao, Chongqing and Silicon Valley (USA) all came together on this exciting day, uniting the school in a celebration of diversity and enduring excellence.
The video broadcast featured an introduction of YCIS' history by YCIS secondary students, followed by all students and staff worldwide singing the school's hymn. The Head of Christian and Moral Education division, Rev Steve Hackman, brought the schools together with a prayer, which was followed by an inspiring and moving speech by Dr Chan. All campuses were then connected by live video feed, with each school reflecting on the occasion, and sharing how their location would be celebrating Founder's Day throughout the day.
YCIS Shanghai's campuses celebrated the special day with various activities and games. Leisure activities included several art project options, teambuilding games, various sports matches and much more. However the most exciting of the events proved to be the sporting events, specifically the "staff versus student tug-of-war" and Founder's Day run. YCIS Shanghai built an entertaining environment that encouraged a healthy mix of both camaraderie and competition.
After the day of fun and activities, Dr Chan kindly congratulated everyone on another successful Founder's Day, highlighting that, "The YCIS schools belong to each and every one of you, and I pray that we will continually be reminded of our Founder's vision and mission at each annual Founder's Day in the years to come!"
About YCIS Shanghai
Yew Chung International School of Shanghai (YCIS Shanghai)
offers the unique richness and diversity of both Western and Eastern cultures, equipping children to be bilingual, competitive, and caring global citizens. YCIS students are nurtured in a multicultural environment with a well-rounded and balanced education, which transforms them into global-thinking individuals. YCIS Shanghai has served the needs of Shanghai's expatriates since its establishment in 1993, with campuses in prime locations in Puxi and Pudong to accommodate the growing number of Early Childhood, Primary and Secondary students within the Shanghai expatriate community. The school serves more than 2500 students, ages two to 18, from over 50 countries. In recognition of the schools' longstanding commitment to providing a world-class, global education, YCIS was presented with the "Cambridge Award for Excellence in Education" in 2012, a top honour from the University of Cambridge International Examinations (CIE). Notably, YCIS is the first, and only, group of schools in China to receive this award. YCIS is accredited by NEASC, CIS, and NCCT, and is authorised as a Cambridge International Examination Centre and an International Baccalaureate World School.
Email Yew Chung International School of Shanghai