Comedy Defensive Driving Addresses Legal Issues of Flashing Lights to Warn of Cops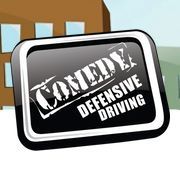 Comedy Defensive Driving, the award winning classroom and online defensive driving school, has recently addressed the
legal issues surrounding the use of headlights to warn
fellow drivers of upcoming speed traps. In recent years, numerous drivers around the nation have been ticketed and fined by police for flashing their high beams. Several lawsuits have surfaced contesting the constitutionality of these infractions, as civil liberties proponents claim they violate driver's right to free speech.
In many states, the question of headlight use and first amendment rights has already been answered. In Tennessee, Ohio, Utah, Pennsylvania and New Jersey, the law has established that a driver's first amendment rights indeed protect the practice of flashing headlights to warn others of oncoming speed traps.
However, this clear distinction disappears in states like Arizona and Alaska, which have strict laws prohibiting the use of high beams in any circumstance.
For other states still mired in ambiguity in this special case, the law remains open for interpretation. Several class action lawsuits are in effect in Missouri and Florida, with more likely on the horizon throughout the country, challenging local law enforcement's crackdown on drivers.
Advocates of the use of high beams for warning purposes claim that in addition to matters of free speech, the action works to improve road safety by encouraging drivers to slow down. Many in law enforcement argue that the practice is an obstruction of justice.
Comedy Defensive Driving recommends drivers become familiar with the specific laws in their home state before they choose to alert drivers of upcoming speed traps. Until such time as a national law emerges, officially declaring headlight warnings a constitutionally protected right, drivers should exercise discretion.
For more information on driver safety tips, access to award winning classroom and online defensive driving courses and more, Comedy Defensive Driving encourages interested parties to visit their website today.
About Comedy Defensive Driving:
Comedy Defensive Driving is a popular driving school offering both online and classroom courses. Established in 1989, Comedy Defensive Driving has since served over 2.5 million customers around the country. Their award winning courses offer an easy, quick and fun way to complete defensive driving courses or traffic school (BDI & TCAC). Their programs are state approved. Comedy Defensive Driving is BBB Accredited. For more information, visit
http://www.comedydefensivedriving.com/
, or follow them on Facebook, Twitter or YouTube.
Email Comedy Defensive Driving