Sparkify App to Spark Up New Connections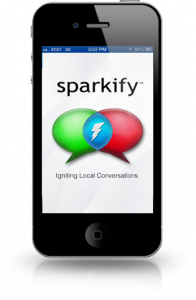 There is a revolutionary new networking app on the Apple Store market that caters to establishing connections via a pre-social app. "
Sparkify
" bases matches, or "sparks" that you have in common with other nearby people with similar sparks. There is finally an application on the market that focuses on establishing connections through location.
The app allows for users to select sparks based on a variety of categories including demographic, location, hobbies, interests, sports teams, and other interests. The app will then show you users with matching sparks nearby.
This is especially helpful when networking at a conference where striking up conversation can be awkward, and topics are limited to the weather and other superficial observations. A potential contact that could be a great contact point for your business may share a hobby of yours, or share the same alma mater which will lead to a deeper conversation that provides for a real connection to occur.
The connections are based on the amount of sparks that match, and location. It does not complicate it with other more established social media platforms, rather, it allows for a connection to occur via similar sparks.
This organic spark generation is a great tool for networkers, or those looking for location centric connections.
This application is a revolutionary networking tool, and is available for download in the Apple Store. The app is anticipated for Android Market availability in approximately 7-8 months.
Try out Sparkify, and start sparking up conversations in your local area.
Go to
https://appsto.re/us/iBxYP.i
to install and open. Then "Join" preferably by using your Facebook or LinkedIn account, set up your Profile, Select your Sparks, and start playing!