Eastern Dentists Insurance Company Now Offers Range of Financial Products and Services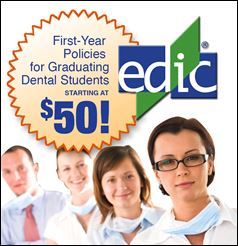 Westborough, MA – Eastern Dentist Insurance Company (EDIC), a trusted dental liability insurance broker, now also offers its members a selection of financial products and services. Designed to further meet the needs of dental colleagues,
EDIC's financial insurance
division helps members grow their assets and secure their financial futures. Independent, objective financial advisors are available to advise EDIC members one-on-one about financial planning for professional and personal lives.
Among the financial products and services available to EDIC members are financial planning, regimented and estate planning, 401(k) developments, life insurance and annuities advice, assistance with stocks and bonds and much more. All financial products and services are highly personalized and clients will benefit from individualized financial plans and advice designed to meet their unique personal and business goals.
To help dentist members with all financial planning needs, EDIC has tapped the services of noted financial planner, Stephen Dellelo. Dellelo has 30 years of experience in the finance and accounting industries and more than 17 years of experience in financial services. For the past decade, he has provided services to the Massachusetts Medical Society and most recently, to the EDIC insured dentists.
"I am very pleased to have an opportunity to work with dental medicine professionals in helping them plan for long-term personal and business financial success," said Dellelo. "There are a range of investment options available for dentists and I will be able to help navigate this financial landscape."
For more information about the range of financial services and products available to EDIC member dentists, visit
www.edic.com
.
About Eastern Dentists Insurance Company
Founded in 1992 by the Dental Society of Massachusetts, as a "by dentists, for dentists,®" company, Eastern Dentists Insurance Company (EDIC) has grown to thousands of members in Massachusetts, Rhode Island, Connecticut, New Hampshire, Vermont, Maine, New Jersey, New York and Pennsylvania. The company was expressly formed to control the rising costs of dental malpractice insurance and allow our colleagues to control our own destinies.
Email Eastern Dentists Insurance Company