Join Penelope Carlevato for "Tea on the Titanic" at Stonebrook Manor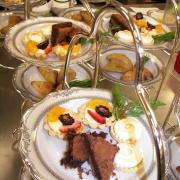 THORNTON, CO October 30, 2013 - The ritual of tea time evokes an earlier age whose grace and splendor inspires our imaginations and warms our hearts. On November 30, 2013, speaker Penelope Carlevato will host tea times that will help you learn more about the era when American society and its citizens were girding themselves for greatness. There will be two seatings, at 11am and 1pm, for this event at
Denver wedding venue
Stonebrook Manor whose elegant Victorian styling provides a perfect setting for the event
Penelope Carlevato is a blender and marketer of specialized teas and the author of Tea on the Titanic, focusing on the personal stories of people involved in the grandeur and tragedy of that great ship, as well as the teas that they enjoyed. She will share some of the insights and recipes from the book as well as some of her personal tips on making and enjoying great tea. Immerse yourself in a bygone era and learn about the customs and etiquette that surrounded tea time a century ago. The event will be followed by a book signing.
"We are delighted to have local author Penelope Carlevato hosting this and other special afternoon teas," said Chuck Haag, head of operations at Stonebrook Manor. "She is a delight to hear speak about history. She also knows how to make a great cup of tea!"
Costs for various teas are outlined on the Stonebrook Manor website. Please call 303-255-0063 to make a reservation. For more information about this or other teas, see
Tea Time at Stonebrook Manor
.
About Stonebrook Manor
Stonebrook Manor Event Center and Gardens is an award-winning wedding venue located in Thornton, Colorado. It is a family owned and operated business, founded on the basic principle of striving to offer a better setting, food, and services at a lower price than offered by other venues in the area.
Chuck Haag
Stonebrook Manor Event Center and Gardens
650 E. 124th Avenue
Thornton, CO 80241
303-255-0063
http://www.stonebrookmanor.com/
Email Stonebrook Manor Event Center