The Servest Group Acquires Hydro Health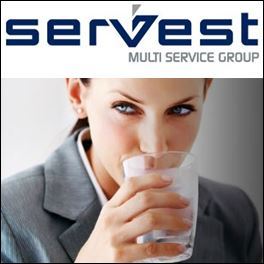 Johannesburg, South Africa - The acquisition boosts the Group's multi-service integrated outsourced offering with an all-inclusive range of water purifiers and support services. Hydro Health are the market leaders in high quality water filtration systems supplying a comprehensive range of products with added customer support and services to clients throughout South Africa.
"Fresh, clean, healthy, purified water that's always available," is Hydro Health's mantra. Carbon and Reverse Osmosis filters remove chlorine, harmful chemicals, unpleasant odours and tastes, sediment and rust particles, and specialised water treatment devices kill 99% of all bacteria. Products are of outstanding quality, complying with ISO, CE, NSF and OHSAS standards, and come with a one-year guarantee.
"The Servest Group has acquired the intellectual property of Hydro Health which has facilitated the development of the first ever multi-skilled sales team within sales and operations. Our Office Services Division now supplies office plants, various office services and a broad range of water purifiers across the industry spectrum. We also plan to grow our presence in the retail arena as we now sell products to the likes of Agrinet & Hirsch's," explains John Simone, Executive Director, Office Services Division, Servest Group (Pty) Ltd.
"Our Office Services Division now offers clients increased convenience and cost savings at competitive market prices. Services are bundled and tailor-made to clients' requirements. Service technicians are trained to maintain both plants and purifiers and we also provide sought after recycle bins to help clients manage their environment", says Simone.
"Hydro Health is widely known for its continuous research and dedication to high standards. With 13 years of experience and SABS approval, we are excited to merge with the trustworthy, reputable and well-established Servest Group. We know clients will be extremely pleased with our combined services," says Fanie Van Wyk, General Manager, Office Services Division, Servest Group (Pty) Ltd.
About Servest
The Servest Group
is a leading provider of innovative outsourcing services throughout South Africa and the United Kingdom. Leveraging an integrated business model, the Servest Group provides industry specific services that include
cleaning, hygiene, office services, landscaping, marine, parking, security and turf
. The Servest Group has 7,000 clients, 32,000 employees and a 2.5 billion turnover. For more information visit:
http://www.servest.com/sa/