McFarling Presents Oral Argument in Nevada Supreme Court Child Custody Case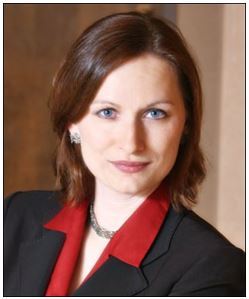 Las Vegas
family law attorney Emily McFarling
recently argued a child custody case with potentially broad implications with regard to child relocation and custody before the Nevada Supreme Court.
The case, Druckman vs. Ruschitti, is an appeal of a district court decision determining custody of a minor child and a post-judgment order awarding attorney fees and costs. In the district court case, an unmarried couple had a child, and while paternity was established by law, no judicial determination of custody was made. The mother later sought to move with the child to another state, and the father objected. The matter went to court and the district court granted the mother's request to move and also awarded her attorney fees and costs.
The key issues in the case argued by McFarling were:
Whether the district court had erred in interpreting Nevada law regarding establishment of custody and whether the mother had to comply with Nevada law regarding relocation of the minor child.
Whether when paternity has been established by statute, but no judicial determination of custody has been made whether a parent has the right to move a child out of state without court authorization and the consent of the other parent.
Whether the district court's determination of the child's best interest was supported by evidence.
Whether a parent allowed to relocate without court authorization gains a legal advantage in later child custody determination.
What legal standards should be used to determine custody and relocation in this particular case.
Whether the district court erred in its determination of the respondent's status as a witness and its limitation of the appellant's line of questioning.
Whether the district court abused discretion in awarding attorney fees.
In oral arguments, McFarling, an experienced family law attorney, argued that the district court had acted properly in granting the mother's request, and that the prior determination of paternity established only that and not custody. McFarling also argued that the child's best interests were served by allowing him to remain with his mother, as her move out-of-state improved her economic prospects and removing the child from his mother would impact his relationship with his sister. McFarling also defended the district court's award of attorney's fees to the mother.
This case could potentially be a milestone in Nevada child custody law establishing the legal status of unmarried parents and their ability to relocate. Having the opportunity to submit oral arguments before the Nevada Supreme Court is a rare opportunity afforded only to an elite few of Nevada's attorneys. McFarling's inclusion in this circle is a testament to her competence as a family lawyer and her efforts on behalf of her clients.
About The McFarling Law Group
The McFarling Law Group is a Las Vegas firm specializing in contested divorce and child custody cases. Emily McFarling is an experienced Nevada lawyer who is a Board Certified Family Law Specialist and a recipient of the Preeminent AV Rating. For more please detail visit,
www.mcfarlinglaw.com
.
Email McFarling Law Group