Industrial Vacuum Cleaner and Pneumatic Conveyor Manufacturer VAC-U-MAX Welcomes New Jersey Governor Chris Christie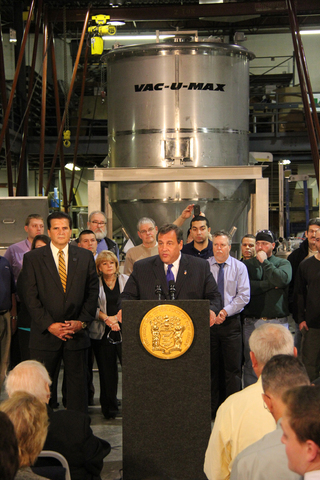 Belleville, New Jersey – Acting in his official capacity as the Governor of New Jersey, Chris Christie announced on Thursday, at the headquarters of industrial vacuum cleaner and
pneumatic conveyor
manufacturer, VAC-U-MAX, that the state's Unemployment Insurance Trust Fund would be "in the black" by the end of this week.
Celebrating its upcoming 60th anniversary in 2014, VAC-U-MAX designs and manufactures innovative pneumatic conveyor systems and support equipment for the conveying, weighing, and batching of dry materials. A pioneer with many industry firsts including air-powered venturi power units, direct-loading of vacuum-tolerant process equipment, and vertical-wall Tube Hopper material receivers, the conveyor manufacturers facility was an ideal setting for the announcement.
Christie acknowledged VAC-U-MAX's 60 years of success, calling the manufacturer's workforce "great," and part of strength New Jersey's manufacturing sector. He then addressed anti-fraud and fiscal management practices that would prevent New Jersey employers from having to pay higher unemployment taxes.
"It was an honor to have Governor Christie at our factory and to show him our equipment," says Doan Pendleton, VP at VAC-U-MAX. "It was an acknowledgement of our commitment to excellence over the past 60 years."
Founded in 1954, VAC-U-MAX produced the first explosion proof industrial vacuum cleaner for the textile industry and continues its tradition of innovation in both industrial vacuum cleaner and
pneumatic conveyor
applications in a wide range of manufacturing and industrial settings from powder coating and metalworking to food, chemical and pharmaceutical.
Also in attendance were Essex County Executive Joe DiVincenzo, Belleville Mayor Ray Kimble, members of the town council and administration and Harold Wirths, commissioner of the state's of Labor and Work Development. "As an employer we have a vested interest in skilled tradespeople," says Pendleton. "It was useful to have discussions with the attendees from Labor and Work Development about the necessity of encouraging high school students to pursue education in trades and manufacturing."
VAC-U-MAX employs 60 people, many of whom have been with the company for over 30 years.
In addition to providing complete, ready-to-operate systems for food packaging and reloading applications as well as pharmaceutical and chemical applications, VAC-U-MAX provides custom sheet metal fabricating, TIG and MIG welding with argon blanketing for sanitary welds, passivation to eliminate chemical reactivity, powder coating, glass bead blasting and laser cutting capabilities for a facility's custom designed pneumatic conveyor systems. Continuing its tradition of offering no cost testing to potential customers, the company houses a 6000 sq ft state-of-the-art test and demonstration facility equipped to conduct a plethora of vacuum conveying tests and to demonstrate its extensive line of vacuum conveyors as well as its line of
industrial vacuum cleaners
.
VAC-U-MAX has been at the forefront of leading edge
pneumatic conveyor
systems and components across a wide range of industries including food, pharmaceutical, chemical and industrial markets. To learn more about how a VAC-U-MAX industrial vacuum cleaner or vacuum conveying systems can improve efficiency, ergonomics, preserve product integrity, or reduce costs, write to them at 69 William Street, Belleville, NJ 07109; call 1-800-VAC-U-MAX (800) 822-8629 or (973) 759-4600; e-mail
info@vac-u-max.com
; or visit their website
www.vac-u-max.com