On the Boston Horizon: More than a Championship Opportunity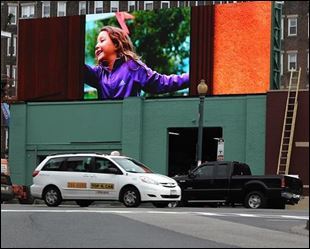 Boston, MA –– With potentially two World Series-clinching games ahead of them, the Boston Red Sox have more on the horizon than an opportunity for another championship. The storied franchise, searching for its third title in 10 years, has done some recent upgrading.
For one, a worst-to-first uprising would classify as a renovation of sorts. The Red Sox' 2012 regular season record of 69-93 (.426) was transformed into a 97-65 (.599) record and World Series birth in 2013.
Now, on the verge of more Series success (knock on wood, Sox fans), the franchise has upgraded in another way: the installation of a vibrant
LED video screen at the corner of famous Lansdowne
Street and Ipswich Street.
Lansdowne Street, which is routinely pelted with homeruns that clear the famous Green Monster, dead-ends into the new display.
The Red Sox contracted with Orange Barrel Media (Columbus, OH) to build the display atop the franchise-owned Ipswich Parking Garage, just beyond the right-center-field stands of Fenway Park.
For high-end LED video technology, Orange Barrel relied on SNA, LLC, a supplier of LED digital displays and lighting solutions in North America.
SNA supplied an outdoor LED display with a resolution of 340 pixels high and 1170 pixels wide. At a near-billboard-sized 13'5" high by 46'1" wide, the screen employs a 12mm center-to-center pixel pitch. Additionally, SNA provided surface-mount device (SMD) technology, meaning each red, green, and blue diode is mounted in a single pixel package.
The structure – including SNA's LED module enclosures and sub-framing – were custom-painted in the patented "Fenway green."
"SNA was very excited to partner with the Orange Barrel team to supply a high-end LED display to the historic area around Fenway Park," said Mitch Leathers, marketing manager at SNA. "We think the video screen adds to the exciting atmosphere and culture that Red Sox fans have enjoyed for so many years."
Orange Barrel Media, which specializes in creative, memorable outdoor advertising campaigns, has teamed up with SNA on similar projects in the past.
"SNA has been a great business partner for Orange Barrel Media," said Alex Compston, Orange Barrel's director of operations. "Their assistance with the planning, installation, and service after installation has been a huge benefit to our new property next to Fenway Park."
Capitalizing on the high-traffic area – boosted, of course, by World Series mania – Orange Barrel is offering advertising opportunities to potential partners interested in the exposure.
SNA, LLC is a turn-key provider of LED digital displays and lighting solutions throughout North America. SNA has managed, fabricated, implemented and installed some of the U.S.'s largest spectacular signs while offering its clients a single source for both indoor and outdoor lighting, and video products. SNA relies on more than 400 engineers dedicated to research and development and utilizes one million square feet of space for manufacturing, administrative support and customer service. For more information about SNA, visit
http://www.snallc.com/
or call 800.521.4815.