Star Helicopters Launches Air Taxi Services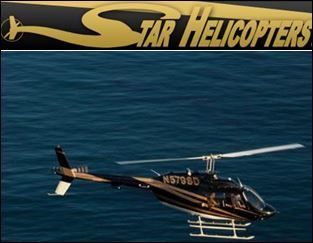 Los Angeles, CA – Southern California is notorious for its traffic jams and difficult roads. But now, those who need quick and reliable transportation around the area have another option.
Star Helicopters recently launched its air taxi
service offering commuters an exceptionally fast way to cover long distances. Air taxi service are an excellent option for busy business people, doctors, lawyers, entertainers and others who need to get around Southern California frequently.
"We are delighted to offer high-profile clients a convenient, safe and fast way to get from Los Angeles to Orange County, Inland Empire and other parts of Southern California," said Keith Harter, Director of Operations and Managing Partner, Star Helicopter Tour. "Flying high above the traffic of the freeways in a comfortable private helicopter is not just a luxury but an important time saving options for our many clients."
The FAA approved, Star Helicopter air taxis operate from a central location only seven minutes from LAX and 15 minutes from Downtown, L.A. Point-to-point on-demand helicopter rides from Star Helicopters are always safe, comfortable, and punctual. Star Helicopters can get clients very close to their desired destination with the ability to land in airports, helipads, parking lots and private facilities.
Star Helicopter pilots are experienced, qualified, certified and regularly re-certified by the FAA to ensure passenger safety. Star Helicopters operates the vast majority of these charter and air taxi helicopter rides as a dual-pilot operation with a pilot-in-command and a co-pilot. Clients will also enjoy state-of-the art avionics and noise cancelling headsets for their comfort.
To reserve air taxi transportation, visit
www.star-helicopters.com
.
About Star Helicopters
As Star Helicopters celebrates the beginning of the third year in business in February, 2012 it has grown from one helicopter and two pilots in 2009, to 8 helicopters and 8 pilots in 2012. Over these first two years the company has become the largest helicopters company in the Metro Los Angeles area, yet it still operates business with that small company hospitality and customer service.