Precision Solutions Inc Partners With Habitat For Humanity Bucks County For Executive Build Day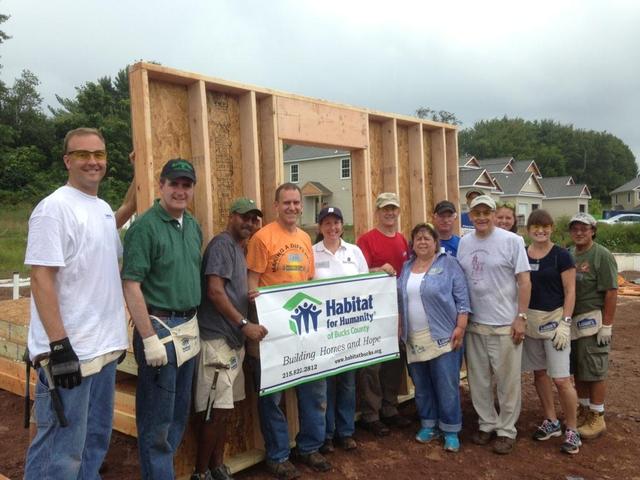 (Quakertown, PA) Precision Solutions, Inc., the 45 year old Quakertown weighing and scale calibration company, recently took part in the Executive Build Day with Habitat For Humanity of Bucks County.
Dan Kendra, Precision Solutions' President/CEO, served as a co-chair of the Executive Build Day, which brought together local C-level executives from First Savings, Grandview Hospital, ASI, and other companies along with Congressman Mike Fitzpatrick to work on a Habitat project site. A Habitat build creates a home that will belong to a low-income family participating in the Habitat for Humanity program. The build results in a home for a family that has an affordable mortgage and the family will contribute 200+ hours of sweat equity with Habitat for Humanity.
Dan Kendra of Precision Solutions, who provides weighing, scale calibration, data acquisition and systems integration to companies throughout Bucks County and the surrounding region, says, "Here at Precision Solutions, we believe that our core purpose of making a positive difference in the lives and businesses of those we serve goes beyond that of our customers. We are proud to support the good works of Habitat for Humanity of Bucks County, an organization that provides a helping hand for our community families in need who have a desire to make a better life for themselves and their loved ones. Many of our teammates willingly pick up their hammers and volunteer their time working side-by-side with Habitat, constructing homes and brighter futures for families in our community. It is heartwarming to see just how much the employees of Precision Solutions care for their community and show it through their hard work volunteering with organizations like Habitat.
About Habitat for Humanity of Bucks County
Serving families throughout Bucks County, the mission of Habitat for Humanity of Bucks County is to strengthen families and communities by increasing the number of quality, affordable homes for single-family residents in Bucks County, and to create opportunities for low-income families to develop equity and independence through homeownership. For more information about Habitat or to sign-up to participate on a volunteer crew, visit
http://habitatbucks.org
or call 215-822-2812.
About Precision Solutions, Inc.
Precision Solutions has been a leader in weighing, data acquisition and systems integration since 1968. With their signature Benchmark Customer Care, furthering Precision Solutions' mission statement of "Precision Solutions, as a team, is committed to exceeding our customers' needs and expectations in all aspects of service, quality and overall satisfaction." Serving the scale calibration needs of Bucks County and the surrounding region, Precision Solutions has a commitment to bringing value and excellence to their customers.
For more information visit
www.precisionsolutionsinc.com
or call 215-536-4400.
Email Precision Solutions, Inc.