Canada, Mexico or Bahamas Options for More Convenient Visa Re-Stamping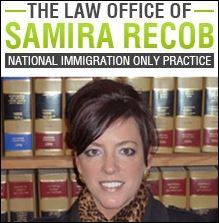 Westminster, CO - U.S. immigration policies present foreign workers and visitors with a complex bureaucracy to navigate, particularly when they must
extend an expiring visa or change their status
, particularly now as immigration rules are being more vigorously enforced. To get the help they need getting an H-1 visa stamped or obtaining a change of status, it may be necessary to hire a business immigration lawyer, Samira Recob can help workers determine their best course of action for legally living and working in the U.S.
Visitors to the U.S. here on certain non-immigrant visas, such as the H-1B visa, who want to extend that visa or change their status, such as changing from a H4 to H1B or a F1 to H1B, are required to get their visa re-stamped at a U.S. Consulate outside the U.S. In many cases, this means returning home from re-stamping. This can be a time-consuming, economic burden for many workers, but there is a less costly way to obtain visa re-stamping. Visitors to the U.S. can get many types of visas re-stamped at U.S. consulates in nearby Mexico, Canada or the Bahamas rather than having to make a long and often costly trip home.
Like most processes of the U.S. immigration system, getting your visa re-stamped in Canada, Mexico or the Bahamas or changing your visa status is complicated, and getting just one step wrong could result in a delay or your inability to get re-stamped. Working with Colorado H-1B attorney Samira Recob can help you ensure that the process goes smoothly, and you're able to quickly and conveniently fulfill requirements to extend your visa or change your status.
By working with Recob, a skilled family immigration attorney based in Denver, visitors to the U.S. can find out what their best course is for getting their visa re-stamped is, whether it's traveling to Mexico, Canada, Bahamas or returning to their home country. Recob can also help ensure that visitors to the U.S. have all the appropriate documentation they need when traveling to these various countries.
About The Law Office of Samira Recob
Samira Recob is an experienced immigration attorney, having handled many work visa, family immigration and naturalization cases. Recob's firm specializes in immigration law, and has the skills and expertise to assist in all immigration needs, including H-1B visas, citizenship and naturalization, investor visas and more. For a free consultation visit
www.recoblaw.com
or call 303-639-3090.
Email The Law Office of Samira Recob