GLOBAL Integrated Security Chooses Industry Proven PROPRICER to Simplify Their Cost Proposal Process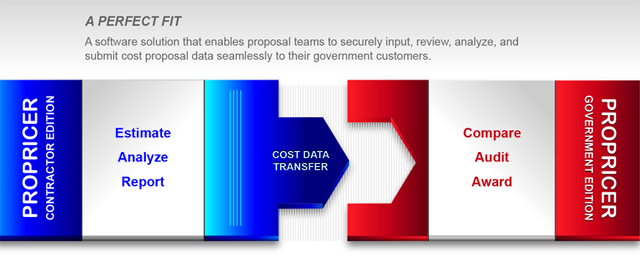 Temecula, CA – November 5, 2013 - Executive Business Services (EBS), a leading software developer and distributor with headquarters in Temecula, California announced today that GLOBAL Integrated Security, the US defense and security services division of Global Strategies Group, has selected PROPRICER™ to support the organization's government proposal pricing and cost analysis business operations.
As an industry leader in cost proposal commercial off-the-shelf applications, PROPRICER serves as a multi-user platform where functional groups can collaborate within the same data set, real-time. As an alternative to restricted mainframe applications or unstable, complex spreadsheets, PROPRICER offers users an easy-to-use interface, robust database design, advanced import and export features and the ability to perform and create complex "what if" analysis and custom reports in minutes.
John Shurance, EBS' President, commented, "GLOBAL Integrated Security supports clients worldwide and has the expertise to take on the largest projects, along with the flexibility to respond quickly to rapidly changing situations. The PROPRICER Contractor Edition is designed to make accurate, last minute changes with ease, which will assist them in reducing their proposal generation cycle time. Our robust software will meet GLOBAL's complex proposal challenges, no matter the size of their proposal effort."
About Executive Business Services
As an application solutions provider focusing on meeting the needs of the growing Information Technology marketplace, EBS continues to successfully build easy-to-use, commercial off-the-shelf applications for various industry markets. EBS' industry proven PROPRICER proposal pricing application suite has been helping proposal management personnel standardize and manage the cost proposal process, thereby improving productivity and profitability time and again. With clients all over the US, Canada and Europe, EBS attributes its success to its corporate mission of building quality, long-term relationships with its customers, while offering products and services that can meet and exceed the changing demands of its users. For more information about EBS and its product offering, please visit
www.propricer.com
.
About GLOBAL Integrated Security
GLOBAL Integrated Security (GIS) is the US defense and security services division of Global Strategies Group. GIS provides full spectrum security and optional support to the defense and intelligence community and other government agencies of the United States. The company integrates intelligence and analysis with security systems and services to enable effective operations. Since GIS was founded in 1998, they have successfully delivered hundreds of projects across the world. For more information on GLOBAL Integrated Security visit
www.globalgroup-gis.com
.
Email Executive Business Services