E&B Natural Resources Wins Environmental Initiative Award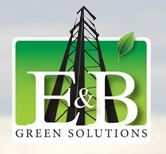 BAKERSFIELD, Calif., Nov. 7, 2013 — Bakersfield, California based oil and gas producer, E&B Natural Resources was awarded Environmental Initiative of the Year at the 2013 West Coast Oil & Gas awards ceremony. The award recognizes technological developments or project that aids in the alleviation of environmental impact from the oil and gas industry.
E&B Natural Resources was recognized for launching a new company, E&B Green Solutions, to market and distribute environmentally safe and effective cleaning solutions, called
G-Clean®
, to the oil and gas industry. According to the panel of judges, the G-Clean® line has proven to be a game changer for environmentally conscious oil & gas operators and oilfield services firms, helping to improve efficiencies, worker safety, decrease cleaning and maintenance costs and reduce companies' overall carbon foot print.
The 2013 West Coast Oil & Gas Awards judging panel, made up of 52 leading industry executives, reviewed over 400 entries from approximately 250 companies to get to the shortlist of finalists who were all recognized on the night, before the winners were announced. E&B Natural Resources was a finalist for "E&P Company of the Year" and E&B Green Solutions was a finalist for "Industry Supplier of the Year".
According to E&B Natural Resources Vice President of Health, Safety, Environment and Government Affairs, Michael Finch, "The awards are an important means of raising public awareness about what the oil and gas industry is doing to produce energy in a sustainable and socially responsible manner. From our management team to infield team, we are consistently looking for ways to keep our operations cleaner, safer and preserve our surroundings. This award symbolizes the company wide value of health, safety and commitment to
environmentally sound
policies."
Note to editors:
Photos and video assets from the awards ceremony are available, and if you would like to arrange to interview the organizers, winners or partners, then please do contact:
Ted Cordova
tcordova@ebgreensolutions.com
or 424-903-7255
About E&B Natural Resources:
E&B Natural Resources Management Corporation is a Bakersfield, California based independent oil and gas company. Employing a balanced approach of mature field revitalization, acquisitions, and exploration, E&B now produces approximately 8,000 boepd from 25+ oil and gas fields located in California, Louisiana, Kansas, Wyoming, and Texas. With over 300 dedicated employees focused on all areas of growth and production, E&B is one of the largest privately owned oil and gas companies in California and is a recognized leader within the exploration and production industry. For more information, visit
www.ebresources.com
About E&B Green Solutions:
E&B Green Solutions is a supplier of safe, effective and environmentally friendly cleaning and production enhancement solutions to the oil and gas industry. The G-Clean® product line is specifically formulated for tank cleaning, oilfield rig and equipment cleaning and degreasing, well stimulation and oil and fuel spill remediation. All of our products are manufactured in the USA from plant based ingredients, are renewable and non-toxic, and are ultimately biodegradable. With NFPA ratings of ZERO Reactivity, ZERO Flammability, ZERO Health and NO Special Hazards, G-Clean® products deliver on the promise of improved worker safety and being environmentally compliant. For more information, visit
www.ebgreensolutions.com
Email E&B Green Solutions