Eclipse Awards Nominated for Best Green Business Award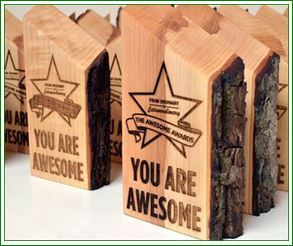 Vancouver, BC – Eclipse Awards, a leader in the recognition awards industry, has been nominated for the Best Green Business recognition in the Small Business BC Awards. The Small Business BC Awards recognize and celebrate the leadership and contributions that BC's entrepreneurs make to their local economy and communities. Top 10 Finalists are determined in the first round through public votes. Subsequent rounds involve a written application and presenting to a panel of judges. The Best Green Business Award will be presented at a recognition ceremony on February 27, 2014. The award winner will receive public recognition as a sustainable business leader in a city that's aiming to be the Greenest City in the World by 2020.
Eclipse Awards is known for beautifully handcrafted recognition awards and responsive customer service. The company is a respected leader in local social responsibility and environmental sustainability efforts, particularly within the Downtown Eastside, a diverse and challenging Vancouver neighbourhood. Eclipse Awards is a Living Wage Employer and a carbon neutral company that was previously recognized as BC's Best Employer in 2012.
President of Eclipse Awards, Toby Barazzuol, states, "For years we've been exploring what it means to be a green company - building green roofs and community gardens, creating beautiful awards from salvaged materials, cultivating happiness and social capital. Now it is beyond sustainability, it's about creating value as we regenerate the environment and celebrate the human spirit!" Barazzuol hopes clients who value sustainability will show their support by casting a vote in favour of Eclipse Awards.
Voting is currently open until November 30, 2013 and clients can visit the Small Business BC Awards website to vote for Eclipse Awards as BC's Best Green Business. To vote, visit sbbcawards.ca/nominee/eclipse-awards. For more information about Eclipse Awards' sustainability commitments and green awards, visit
www.eclipseawards.com
.
About Eclipse Awards:
Eclipse Awards creates beautiful things that make people happy, build resilient communities, regenerate the environment, and transform the way people think about recognition.
Email Eclipse Awards International Inc.