Air Control Dampers From The Lloyd Industries Will Improve Your Living Quality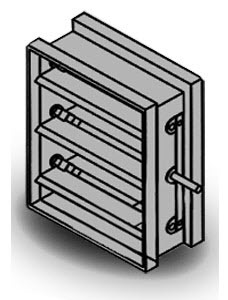 Stale and unhygienic air from any structure must be removed in order to provide healthy and fresh living condition for the residents. Chronic diseases are mostly caused by the pollutants and allergens present in the air that we breathe. The same is true for our pets. In a house where air is foul, stale and polluted people are more likely to fall sick. To have fresh air circulation, it is important that the ventilation system of the structure is designed and installed properly. Buildings get constructed with different materials and most of them are equipped with the air-conditioning system. Lloyd Industries Inc has been into the industry providing all types of HVAC products and ventilation systems suiting the needs of residential as well as commercial buildings.
"We are quite confident of catering the needs of our customers as we have been in the industry for more than 30 years. Right from the day one we have done extensive study about the needs of proper fire safety mechanism and ventilation system in different types of buildings to ensure occupants have healthy living and foolproof fire safety mechanism", informs CEO, Lloyd Industries Inc.
"For so many years we have been able to maintain the standard of products and services and thus our client base has reached a considerable size and not only in the residential buildings but we have been providing ventilation and fire safety systems to many important buildings like Macau Venetian Casino, West Point Military School, and the Chrysler Building. We not only offer
Air Control Dampers
for keeping the indoor air fresh but we also help in keeping excess moisture out of the room or building using
Backdraft dampers
and we do have complete range of dampers for fire and/or smoke safety," states CEO Lloyd Industries. To ensure brick constructions have enough ventilation system,
Brick vents
are also provided by the Lloyd Industries. All the products manufactured by Lloyd Industries Inc are known for their high durability, easy-to-install, low maintenance and affordable cost.
Lloyd Industries Inc
has already spread its branches outside the USA and Canada. It has already started operating in Asia-China, Taiwan, Dubai and Middle East-Lebanon, Iraq and thus making a global presence and is ready to spread its operation in several other countries creating satisfied customer base. "We have enough resources and work force to spread ourselves across the world and deliver the same standard of services that it has been delivering since its launch 30 years ago", says CEO Lloyd Industries Inc. To know more about the products and services of Lloyd Industries, log on to
www.firedamper.com