Always Best Care Senior Services Awards Ninth Senior Care Franchise in New Jersey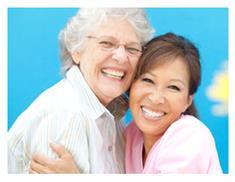 Roseville, CA – Always Best Care Senior Services, one of the fastest growing senior care franchise systems in the United States, today announced the brand has continued its expansion by awarding its ninth franchise in the state of New Jersey, and as a result is expanding its coverage to encompass portions of Passaic and Bergen Counties, including Wayne, Lincoln Park, Pompton Lakes, Clifton, Franklin Lakes, Oakland, Mahwah, Ramsey, Saddle Brook, Maywood and neighboring communities.
Always Best Care is one of the nation's leading providers of non-medical in-home care, assisted living placement services, and skilled home health care. The company delivers its services through an international network of more than 180 independently owned and operated franchise territories.
The company now has New Jersey offices located in Livingston, Morristown, Freehold, Parsippany, Jersey City, Manalapan, Summit and Berlin in addition to the new office in Wayne.
Always Best Care combines national strength and standards with local accessibility and personal service. The local owner of Always Best Care of Wayne is Liz Johnson. Ms. Johnson has over 20 years of extensive healthcare and patient/caregiver advocacy experience in the pharmaceutical, medical device and consultancy industry. Her passion for helping others who cannot help themselves stems from her professional expertise in debilitating medical conditions such as Alzheimer's, Cancer, and Asthma to name a few.
She and her team are dedicated to work one-on-one with clients and their loved ones to identify the right solutions while taking into consideration cultural and language preferences.
"I am thrilled to welcome someone of Liz Johnson's background, character and integrity to the Always Best Care family," said Michael Newman, founder and Chief Executive Officer of Roseville, CA-based Always Best Care. "I have no doubt that she'll be a valued addition to the Always Best Care family, and be a splendid partner for our rapidly growing New Jersey team."
"At Always Best Care of Wayne," Ms. Johnson stated, "it is our mission to provide exceptional service and personalized homecare services for seniors who desire to remain in the comfort and freedom of their own homes. Our talented caregivers are thoroughly screened, bonded, insured and background checked to provide the safest and highest level of care. Additionally, we can assist seniors that wish to explore assisted living residences."
Always Best Care of Wayne is located at 130 West Pleasant Avenue, Suite 305, Maywood, NJ 07607, and may be reached by calling toll-free (877) 318-0529.
For information on Always Best Care senior care franchise opportunities, call toll-free 1-855-430-CARE (2273) or visit
www.franchisewithalwaysbestcare.com
.
About Always Best Care
Founded in 1996, Always Best Care Senior Services is based on the belief that having the right people for the right level of care means peace of mind for the client and family. Always Best Care has assisted over 25,000 seniors, representing a wide range of illnesses and personal needs. Franchise opportunities are available to individuals interested in leveraging the company's clear strategy and proven track record for delivering affordable, dependable service to seniors in their local areas.
By working with case managers, social workers, discharge planners, doctors, and families, Always Best Care franchise owners provide affordable, comprehensive solutions that can be specifically matched to meet a client's particular physical or social needs. The hallmark services of the Always Best Care business portfolio include non-medical in-home care and assisted living finder and referral services, with skilled home health care now being phased in throughout the country. For more information, visit
www.alwaysbestcare.com
.
Always Best Care also offers Free ABC Rx cards, which provide discounts of up to 65 percent off the cost of prescription drugs at more than 56,000 pharmacies across the USA, and have saved consumers more than $300,000 since its inception. This service is offered at no cost to the users, there are no deductibles, no waiting periods, no pre-existing exclusions, and no eligibility requirements — everyone can use the card (even family members and pets!). The Free ABC Rx card covers many medications that Medicare Part D and regular insurance often do not. To download a free card, visit
www.FreeABCRx.com
.
Another exclusive program offered by Always Best Care is Always in Touch, a telephone reassurance program that provides a daily phone call to seniors and disabled adults who are living alone and have limited contact with the outside world. Always in Touch is the only absolutely free national telephone reassurance program of its kind anywhere in the USA and Canada. For more information on Always in Touch, or to request an application, visit
www.Always-in-Touch.com
.