OSTraining Allows Companies to Provide Website Training Directly to Their Staff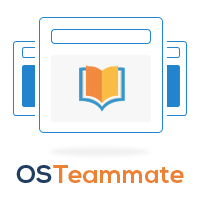 OSTraining.com has released a new tool to allow companies to install and show website training directly from their own websites. Companies can install
OSTeammate
into their existing website or intranet and immediately see over 1500 training videos.
OSTraining releases new training every week. To keep customer up-to-date, OSTeammate will automatically update so that every time that new training is available, it appears inside the site.
What exactly is OSTeammate?
OSTeammate is an installable add-on. This is add-on that sits inside websites and automatically pulls in our videos to show to your members. Installing the add-on takes no more than 5 minutes.
OSTeammate has been tested for 6 months now and is rock-solid. Some of the OSTeammate testers have chosen to use all of our videos. However, the option is available for companies to show only one type of video (for example, only Joomla videos or only Drupal videos).
Are you looking to train your staff members?
Many different groups use
OSTraining's online courses
. The classes have been taken by companies, non-profits, schools and universities.
Although OSTraining.com is useful, it's not easy to show a group of staff members how to use a new site.
OSTeammate integrates into company site so that your staff members can use existing accounts on sites they already use.
About OSTraining
OSTraining is one of the largest open source training companies in the world. Over the last 5 years, OSTraining has taught more people to use Drupal than almost any other company.
Clients include the White House, leading U.S. government agencies and companies such as Apple and IBM.