Guaranteed Rate Welcomes Ty Pennington as Spokesperson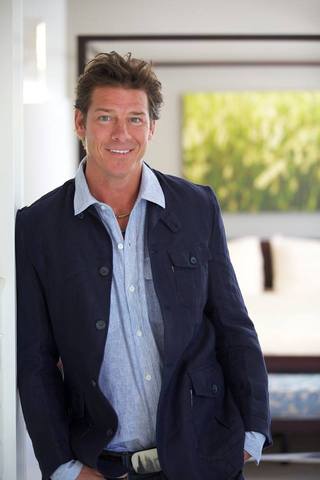 SAN DIEGO, CA—(November 14, 2013) - Guaranteed Rate, the eighth largest retail mortgage company in the country, announced today that celebrity television host and best-selling author, Ty Pennington, will be the spokesperson for the company. Guaranteed Rate and Ty Pennington will work together to promote the company's brand and help consumers and real estate professionals with unique design ideas, remodeling tips and other ways to increase the value of people's homes.
The Morales Group
, the localized lending arm of Guaranteed Rate is ecstatic about the announcement regarding the partnership with Pennington. Enzo Morales, CEO and founder of the Morales group said of the partnership, "Ty and the Morales group share a passion. We both want to help individuals achieve the dream of home ownership. The moment and energy this partnership will provide is just one many reason why we love working with Guaranteed Rate."
Widely recognized for hosting ABC's Emmy-award winning show "Extreme Makeover: Home Edition" and writing the New York Times Best Seller, Ty's Tricks: Home Repair Secrets Plus Cheap and Easy Projects to Transform Any Room, Ty Pennington has gained global notoriety and recognition for his philanthropic approach to changing the lives of deserving families by building them their dream homes in seven days or less. With more than 20 years in the design and home-improvement business, Ty will bring his charisma and design knowledge to Guaranteed Rate's clients and partners through articles and videos on GuaranteedRate.com.
"Ty's generosity, approachability and expertise are what make this partnership a great fit for us and our clients," said Victor Ciardelli, president and CEO of Guaranteed Rate. "He is well-known for creating dream homes for people, and we're focused on helping people get into their dream homes as easily and cost effectively as possible. We are super excited to welcome him to our team."
"I am thrilled to be partnered with Guaranteed Rate and to have the opportunity to help them spread the word about their fantastic business and help their clients improve their homes," said Ty Pennington, author and master carpenter. "What impresses me most about Guaranteed Rate is how the company is changing the way people get home loans and that they really care about providing each and every client with top-notch service and low rate mortgages."
The Morales Group
at Guaranteed Rate is thrilled to have such a genuine spokesperson on board to spread the message that everyone deserves a chance to achieve the dream of owning a home of their very own.
About Guaranteed Rate
Guaranteed Rate is the eighth largest retail mortgage company in the U.S. and is Revolutionizing Life's Biggest Purchase™ by offering industry-leading self-service tools, low rate, low fee mortgages through an easy-to-understand process and unparalleled customer service. Headquartered in Chicago with more than 170 offices and licensed in all 50 states, Guaranteed Rate has helped hundreds of thousands of people with more than $50 billion in home purchase loans and refinances since 2000. Guaranteed Rate was recently named the No. 1 mortgage company in America by Mortgage Executive Magazine and recognized by Inc. magazine as the #4 private company job creators in the U.S. Visitwww.guaranteedrate.com for more information.
Follow Guaranteed Rate:
Facebook
Twitter
LinkedIn
Google+
About Ty Pennington
Ty Pennington is best known as the Emmy-award winning host of "Extreme Makeover: Home Edition" and the co-Host of ABC Daytime's "The Revolution." He has been recognized as a home design expert, master carpenter and leader in the field of volunteerism. Ty Pennington's website is a space to share his inspiration, design tips, daily musings and more. Visit
www.typennington.com
for more information.