Wattco Offers Newly Certified Explosion Proof Flanged Heater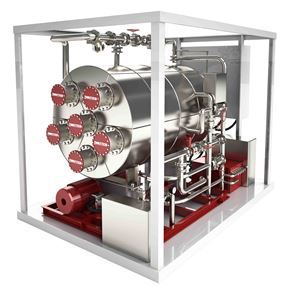 National heating company Wattco is pleased to offer a certified 18-inch flanged heater to service petrochemical and heat processing companies. This heater is explosion proof and with a larger diameter, it can handle higher power requirements.
Flanged heaters are best used for
oil refineries and chemical factories. The electric heater directly warms liquid to maintain temperature for efficiency while protecting your flange and materials from getting too hot. While Wattco previously offered NEMA 1, NEMA 4/4x and NEMA 7 terminal boxes for up to 14 inch flanged heaters, their newest product is certified NEMA 7 up to 18 inch diameter for added safety in the most demanding environments. The flanged heaters are available in different alloys including stainless steel, steel, and titanium dependent on company needs. These help prevent rusting and corrosion to prolong the heater's life.
Wattco is extremely excited to offer this new product to its customers throughout the country. They have stated, "This industrial heater came to be because of our commitment to improving current designs and technology. We are constantly working to offer new products that are durable, efficient, and the best quality."
If your company is in need of a NEMA 7 explosion proof terminal box for flanged heaters, contact Wattco for more information. Their production facility carries both in stock heaters as well as the ability to create custom flanges in one day. This means your company can be running a safer flanged heater with new certification in less than a week with the lowest prices on the market.
About Wattco:
Wattco has been producing and designing electrical industrial heaters for over 40 years. They have a research and development department dedicated to creating new and better products that meet CSA and Underwriters Laboratories standards. Above all, Wattco is committed to their customers and serving their needs is the company's first priority. For more detail please visit,
www.wattco.com
.