CAI Safety Systems Now Offers On-site Installation Services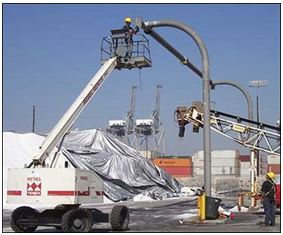 CAI Safety Systems, one of the leading providers of turnkey fall protection systems, now offers clients on-site installation of their custom designed fall protection system. The installation service includes a comprehensive assessment of the client's fall protection needs, review of existing safety processes and complete, turnkey installation. The first step is to perform site survey and assessment which will form the basis for a comprehensive fall protection plan.
The initial on-site visit by
CAI Safety Systems specialist provide an opportunity
to note all existing conditions, interview on-site personnel, and document potential fall hazards. A written report is then provided to the executive committee detailing the challenges of existing applications. All options of the fall protection hierarchy including elimination, fall prevention, fall restraint, and fall arrest will be evaluated for every client's specific safety and work needs.
Following this process, CAI will breakdown the benefits and drawbacks of each option, provide budgetary pricing for design, fabrication, installation, and training for all proposed options. CAI Safety Systems experts work with clients to answer all questions and in necessary make revisions to the fall protection plan to be ensuring the highest level of safety, OSHA compliance as well as cost-efficiency.
Lastly, CAI team will professionally install all fall protection equipment on site and test for effectives.
To request an initial consultation for on-site fall protection system installation, visit
http://caisafety.com/
or call (888) 246-6999.
About CAI Safety Systems:
CAI provides turnkey fall protection, fall restraint and fall arrest systems for railcar, truck, roof, aircraft, bus, crane, tanks, ladder and many more applications. CAI offers OSHA and ANSI compliant horizontal lifeline, guardrail, anchor, safety gate, access platforms and gangway customized for your safety needs. The company has extensive experience in providing a full range of systems to fit your application including fixed, mobile, building mounted, and portable fall protection systems.