Frevvo 5 Provides Digital Signatures / PDF Export For Mobile Devices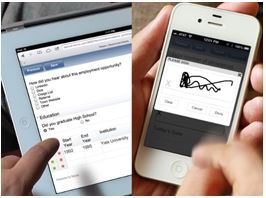 The new
Frevvo 5 will help businesses and other organizations
save time, paper and money by expanding their ability to use mobile devices to digitally fill out and sign online forms yet generate required PDF documents such as a Government W-4.
Businesses and government are rapidly adopting electronic signatures as they realize the convenience and productivity benefits of signing documents electronically and generating PDF documents automatically. Organizations are increasingly confident in the security of online forms.
Further, as mobile devices penetrate most organizations, the number of people using them for work will only continue to grow. A key hurdle created by mobile devices is the difficulty in electronically filling out and signing specific, required PDF documents e.g. a Government W-4.
Electronic signatures and web forms provide convenience and improved productivity and cost savings to businesses as they allow employees, managers, customers and others to fill out forms and sign them online using any device, rather than having to print out paper copies, fill them out manually and either re-transmit them via snail mail, fax or scan and re-submit electronically.
By using Frevvo 5, organizations gain a convenient way for mobile device users to fill out e-forms on their device, electronically sign the e-form and yet generate signed PDF documents upon submission. An employee who needs to fill out and sign his or her W-4 form for an employer can do so from the convenience of his or her mobile device, keeping that employee from having to print a PDF, fill it out manually, sign it and submit it to the employer by rescanning and sending or mailing it via the postal service.
With Frevvo 5, businesses and other organizations can benefit from online form and digital signature technology that is safe, reliable and easy to use.
About Frevvo
Frevvo provides clients with easy to use e-forms and workflows that they can customize for any use on any device. Since Frevvo's establishment in 2007, the company has worked to improve productivity and reduce unnecessary bureaucracy through the convenience of online forms and electronic signature solutions. To find out more, visit
https://www.frevvo.com/
or call 1.203.208.3117.