WH Security Launches New Mobile Website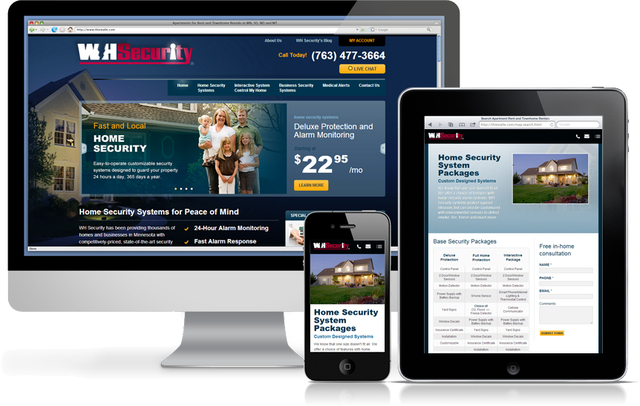 WH Security is your one stop solution for home security, energy management, and home automation. Located just west of the Twin Cities Metro,
WH Security
is committed to providing the latest and best technology solutions available.
Most of our new customers purchase some form of interactive services. They can choose to control their lights, door locks, thermostat and more from any Internet connection. Recognizing that many times these features are accessed through a phone, WH Security has recently updated its website to be a responsive mobile design, meaning no matter what size device you are using – a computer, tablet or phone - it will display in a pleasing and functional manner.
A mobile website is increasingly important as it allows you to easily and simply access information on the go in a functional format. And when ready, contacting WH Security is as simple as browsing to
www.wh-security.com
where you have a choice of click to call, click to email, or fill out a web form. All options are available in a format that will be size to your screen. Our responsive design detects the size of your browser window and automatically re-sizes to scale.
This is just the most recent example of how WH Security uses innovative technology to serve customers better. Another technology feature available to customers is cellular communication, which connects your system to WH Security's monitoring center when a land line is not available, for the most reliable security protection. WH Security also provides a mobile app that allows you to monitor your security system and control automated/interactive home features such as a thermostat, lights, locks and video cameras from any Internet connection. Customer can also access an online "My Account" service section to perform tasks such as sign up for free text and email alerts, and reminders to test their system. To help keep you informed WH Security shares the most recent trends with you through articles on its blog.
WH Security, based in Rockford, Minn., provides home and business security solutions to the Twin Cities metropolitan area. Owned and operated by Wright-Hennepin Cooperative Electric Association, WH Security serves more than 11,000 customers with quality products and affordable monitoring services.