Lear Capital Launches a Comprehensive Online Library on Precious Metals Investing, Economic Trending, and Breaking Fiscal Policy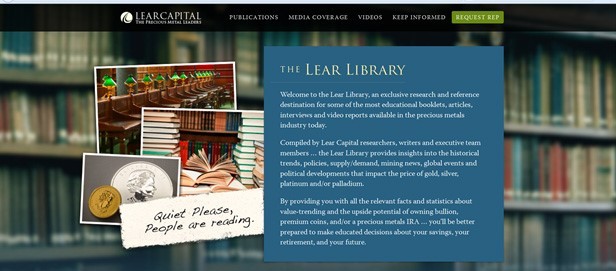 Lear Capital, America's Precious Metals Leader, has just launched
www.learlibrary.com
, an exclusive research and reference destination for economic commentary, breaking fiscal news, and Fed policy that impacts the financial portfolios of countless US investors. The site offers downloadable E-books, "hot off the press" commentary, and web reports on the precious metals and money news of the day.
Lear's new online library (
www.learlibrary.com
) explores the complex topics of US Debt, critical benchmarks for the US Dollar, leading economic indicators, Washington politics, DC partisanships and all things that impact personal savings and retirement accounts.
With insightful book titles like: "Vanishing Silver," "The Late Great US Dollar," and "The Global Mining Crisis" and thought-provoking commentary like … "The New Face of the Fed: Yellen on Money, Policy and the Markets," and "Shut Down – Why the Current Federal Budget Crisis may be the Least of our Worries" … the site explores breaking economic developments as well as historical trends in precious metals pricing, mining demand, and Fed policy developments that impact the price of gold, silver, platinum and/or palladium.
Compiled by Lear Capital researchers, writers and executive team members … the Lear Library provides the relevant facts, statistics and trends to help consumers make educated decisions about their savings and their future. The site also offers personal commentary from Lear CEO Scott Carter and Founder and Chairman Kevin DeMeritt on breaking economic developments that impact financial portfolios, retirement accounts, and net worth.
The Lear Library (
www.learlibrary.com
) has an exclusive "First Release" sign-up for breaking precious metals news as well as important benchmarks for the Debt, the Dollar and leading economic indicators to help keep investors informed, prepared, and ready to react to market fluctuations or volatility.
Lear Capital (
www.learcapital.com
) has been America's Precious Metals leader since 1997 helping customers diversify their portfolios with bullion, premium rare coins, and by adding physical gold and silver to an existing IRA account. For investors looking to realign their asset allocation, maintain an aggressive hedge against global volatility, or secure tangible retirement protection, Lear Capital has a plan.
Lear Capital maintains an A+ rating with the Better Business Bureau and is a PCGS (Professional Coin Grading Service) Authorized Dealer. In addition, they abide by the NGC's (Numismatic Guaranty Corporation) coin grading Standard of Integrity, and support the ICTA (Industry Council for Tangible Assets) on issues of taxation, IRS regulations, and legislation that impacts all tangible assets.
Lear Capital can be contacted through their website at:
www.learcapital.com
or at 800-576-9355. The new Lear Library is available at
www.learlibrary.com