Homes by Vanderbuilt Gets Social for Toys for Tots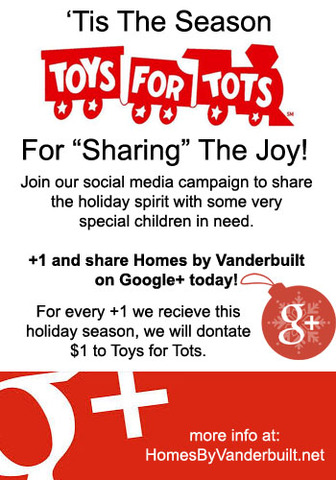 The North Carolina modular home builder, Homes by Vanderbuilt, is turning to social media for the second year now to help children find presents under the tree on Christmas morning.
Homes by Vanderbuilt is donating $1 to Toys for Tots for every "+ 1" its
Google+ page
receives from now until December 20th.
Why Google+? "My company has seen first-hand the power and the scope of the online community," Homes by Vanderbuilt owner Tom Van de Reit said. "Google+ has become an important social media platform that has a wide reach to many families. By using the Google+ platform, we will be able to promote the hard work and positive influence the Marine Corps' Toys for Tots are providing the community."
Most importantly, Mr. Van de Reit and the team at Homes By Vanderbuilt hold one guiding tenant as they encourage everyone to "Follow" them this year: "Every child in North Carolina should have something under the tree this year and a smile on their face Christmas morning. No exceptions."
If you would like to help Homes by Vanderbuilt reach their goal of 1,000 Google+ follows ($1,000) by December 20th, please visit:
https://plus.google.com/100995092113098054056/about
or if you want to donate to Toys For Tots of Sanford directly, visit:
http://sanford-nc.toysfortots.org/
. The Homes by Vanderbuilt office in Sanford will also serve as a drop-off location for those wishing to donate new toys.
About Homes by Vanderbuilt
Homes by Vanderbuilt
is a licensed general contractor specializing in the design and construction of modular homes in North Carolina, South Carolina and Virginia. Homes by Vanderbuilt has the nation's largest model home display. They have been in business for nearly 30 years. Learn more at
http://homesbyvanderbuilt.net/
Email Homes by Vanderbuilt