Wholesale Clothing Distributor PrimeTime Clothing Prepares Fashion Boutiques for Black Friday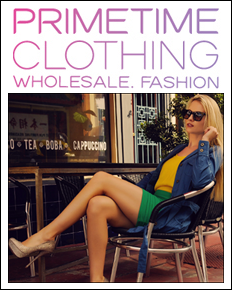 Los Angeles, CA - Shoppers
looking for brand name wholesale clothing
can find all the labels they are seeking at PrimeTime Clothing's Black Friday Boutiques, and save 10 percent off their fall fashion purchase, with the November coupon code "Nov10."
Offering the best selection in junior, missy, plus-size, and men's clothing, PrimeTime Clothing provides the hottest styles at unbeatable prices. The fashion experts at PrimeTime Clothing are knowledgeable about current styles, and search relentlessly to find pieces at the height of fashion, to pass them on to their customer at a discount. "Just because you are shopping online, doesn't mean you should have to sacrifice your fashion sense or clothing quality," said a spokesperson for PrimeTime Clothing. "We offer only the latest trends, so customers know they are shopping in style."
In addition to wholesale clothing, PrimeTime Clothing also provides wholesale accessories, like bags and sunglasses, as well as wholesale perfume, and more. "Shoppers can rely on us for the best deals on quality accessories," said a company spokesperson. "We provide endless options on clothing and accessories, all at wholesale prices." Instead of trudging from store to store, online shoppers enjoy the convenience of a huge inventory, all at their fingertips.
PrimeTime Clothing's website is easy to navigate, giving shoppers access to the store's huge inventory of cheap wholesale clothing. The website is designed with ease of shopping in mind, with sections for new arrivals, best sellers, and daily specials, as well as clearance and marked-down items. "We try to make shopping for the latest fashions easy and fun," said a company spokesperson. "Our clearly labeled and organized site is a bargain hunter's dream come true."
Pulling items from Los Angeles area manufacturers, as well as importers, PrimeTime Clothing constantly has new inventory, so shopping their online store is always an exciting experience. "We get new pieces in all the time, and our new fall arrivals rolling out on Black Friday will be spectacular," said a company spokesperson.
Although PrimeTime Clothing specializes in providing cheap clothing online, the company takes pride in its superior customer service. With their PrimeTime Rewards program, and Free Shipping on orders over $300, customers are treated with care and respect. "When you shop with us, you can save money, without compromising customer service, style, or clothing quality," said a company spokesperson. "By shopping online, you can save money on the hottest trends in the fashion industry."
About PrimeTime Clothing:
PrimeTime Clothing is a wholesaler of apparel and accessories with stock from Los Angeles area importers and manufacturers. The company has more than 25 year experience selling the latest fashions in missy, junior, plus-size, men's, active wear, handbags, intimate, and accessories. Shoppers can contact PrimeTime fashion experts at 888-323-5173. For more information, visit
www.primetimeclothing.com
.