Kids in 4th and 5th Grade are Skiing for Free this Winter in Pennsylvania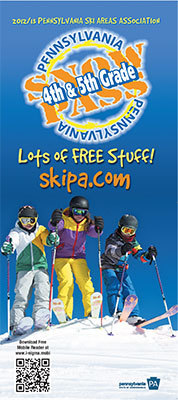 WHITE HAVEN, Pa
- Your young kids may still be in elementary school, but if you tell them something is free, they're going to know it's a good deal! Well, how about skiing or boarding for free this winter?
Enjoy all the snow that 21 Pennsylvania Ski Resorts have to offer for free this winter! That's over 64 total days your kids will be enjoying the excitement of skiing and boarding. And you don't have to live in Pennsylvania, just ski or board there. It probably makes you wish you could travel back to that age and enjoy the snow the way they can. But, even if that is impossible, your kids will be happy to bring you with them.
According to Linda Irvin, Director of the Pennsylvania Ski Areas Association (PSAA) that provides this program, "The Snowpass Program is the perfect way to create life-long fans of skiing or snowboarding and the outdoors. The excitement and enthusiasm among 4th & 5th graders on the mountain is dramatic. It's the point in life where they can really feel a solid commitment to a sport that will last a lifetime."
Don't already ski or board, no problem … this deal is still for your family. The PA Snowpass includes one beginner lift, lesson and rental package and a 50% off coupon for parents too!
1st Time Ski or Snowboard Program
Do you want to learn to ski or snowboard this winter?
You can! The Pennsylvania Ski Areas Association (PSAA) is offering a $39.00 Beginner Ticket, Lesson and Rental deal. Pennsylvania has many great resorts that are the perfect location to get on the snow.
This $39 Package Includes:
One Beginner Lift Ticket (no upgrades)
One Beginner Group Lesson
Complete Rental Equipment
Valid at Participating Pennsylvania Ski Areas
Voucher can be used anytime, including weekends and holidays! The quantities limited for this deal, first come, first served, so act fast.
This is a beginner program, so you will be restricted to the ski area's beginner area. There is limit to 5 vouchers per household.
The 4 th or 5 th Grade Snowpass program is available at any of the Pennsylvania ski resorts listed below.
1. Alpine Mountain, Analomink
2. Bear Creek Ski Resort, Macungie
3. Big Boulder, Blakeslee
4. Blue Knob Ski Area, Claysburg
5. Blue Mountain, Palmerton
6. Camelback Mountain Resort, Tannersville
7. Eagle Rock Resort, Hazleton
8. Elk Mountain, Union Dale
9. Hidden Valley, Hidden Valley
10. Jack Frost Mountain, Blakeslee
11. Liberty Mountain, Carroll Valley
12. Montage Mountain, Scranton
13. Mystic Mountain at Nemacolin Woodlands Resort, Farmington
14. Roundtop Mountain Resort, Lewisberry
15. Seven Springs Mtn. Resort, Seven Springs
16. Shawnee Mountain, Shawnee-on-Delaware
17. Ski Big Bear, Lackawaxen
18. Ski Denton, Coudersport
19. Ski Sawmill Family Resort, Morris
20. Tussey Mountain, Boalsburg
21. Whitetail Resort, Mercersburg
For more information on participating resorts or to sign up, visit SkiPA.com and on Facebook at
http://Facebook.com/PASnowpass