Dr. Oz Investigates Negative Claims on LASIK Surgery - Dr. Irwin Azman Responds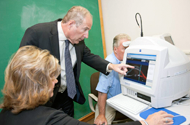 Baltimore, MD – November 26, 2013 - The Dr. Oz show recently investigated the negative claims associated with LASIK surgery. Elisabeth Leamy, an investigative reporter, spent two years researching the negative claims and side effects that often occur post-surgery. Her findings showed that an alarming number of people suffer from injuries after having the elective surgery. The FDA estimates that 600,000 people elect to receive LASIK surgery each year. A surprising 20% of these 600,000 patients suffer from side effects or injuries post-surgery.
Dr. Irwin Azman, who has treated LASIK complications for several years responded to the claims on the Dr. Oz Show by saying: "While LASIK surgery can be successful under optimum eye conditions, unfortunately many patients do experience side effects due to pre-existing conditions. However, there is hope. Utilizing our vast experience and expertise, as well as an array of new technologies, we are able to treat these side effects with non-surgical techniques."
Elisabeth Leamy reported that 1 out of 5 patients has poor visual acuity after undergoing surgery. A select number of these patients will have enhanced vision with the naked eye; however, their visual acuity will be worse than it was with glasses. In politically correct prose, the FDA bluntly states on its website that, "Only a certain percent of patients achieve 20/20 vision without glasses or contacts … Some patients lose lines of vision on the vision chart that cannot be corrected with glasses [or] contact lenses…"
To gain further insight into the negative claims associated with LASIK eye surgery Ms. Leamy went undercover. While undercover she visited three LASIK eye centers. Each center failed to provide her with the "Patient Information Booklet" for the specific type of laser that would be used. The FDA requires laser manufactures to make these booklets available to patients; however, the centers are not forced to actually give the booklets to the patients. Without receiving the "Patient Information Booklet" many patients are left with only the positive results that are displayed in LASIK advertisements.
Ms. Leamy was told at all three eye centers that the risk of injury was "minuscule." None of the centers acknowledged that her risk for side effects or injury was near 20 percent. In fact, one LASIK center employee went so far as to say, "It's pretty foolproof at this point."
Dr. Irwin Azman provides treatment for the 20 percent of people who have received LASIK surgery and suffer from post-surgical complications.
For more information about LASIK complications and the services of Dr. Irwin Azman visit
www.lasikfailures.com
or call (410) 561-6071.
Email Azman Eye Care Specialists