America Remembers Launches New Website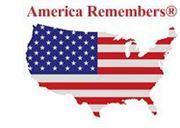 Ashland, VA – America Remembers is proud to announce the launch of its new website, americaremembers.com. The updated website
features more pictures of collector firearms
for clients to browse and offers a more user-friendly experience with simplified searches and lists of products.
"We are the go-to online resource for many gun collectors interested in firearms that showcase American history," said Paul J. Warden, President of America Remembers. "Knowing this, we wanted to offer our clients a better online shopping and research experience when they visit americaremembers.com."
With the acquisition of the firearms division of the American Historical Foundation in 2005, collectors have been able to find some of the most unique and historically designed collector firearms in the world. The new website is designed to bring this experience fully online. Browsing the new site, collectors will be able to see detailed, professional images of the firearms, as well as learn each piece's history and significance in American history.
The most discriminating collectors will be able to view particularly notable issues honoring heroic and legendary Americans, both past and present, such as Abraham Lincoln, Samuel Colt, John Wayne, Roy Rogers, Gene Autry, Elvis Presley, James Arness, Audie Murphy, Gen. George S. Patton, Jr., Chuck Yeager, J. Edgar Hoover, Chuck Norris, and many others. In addition, firearms are issued with leading museums and organizations such as the Texas Ranger Hall of Fame and Museum, The Army Historical Foundation, Veterans of Foreign Wars, Ducks Unlimited and The National Wild Turkey Federation.
With an ever-changing collection of handsomely-crafted tribute firearms, clients returning to the new America Remembers website will be able to find new and exciting products to explore and collect.
About America Remembers:
America Remembers is an organization dedicated to the remembrance of notable Americans and significant events in American history. At AmericaRemembers.com clients have access to a collection of unique, collectible, and superbly crafted collector firearms that are intended to capture the essence of our American heritage, from the Founding Fathers who established our great country, through the Civil War and Old West, and into the tumultuous 20th century and all its significant events. To view the new website, and to enjoy the upgraded online shopping experience for collector firearms, visit
www.americaremembers.com
.