Speaking for Leads Announced as Inaugural Profitable Consultant Series Topic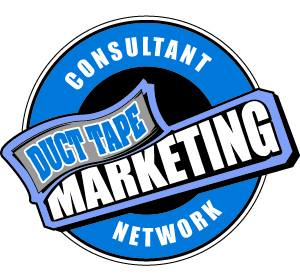 Duct Tape Marketing Coach LLC, as part of their
Profitable Consultant Series
, will host an online training seminar on Thursday, December 5 at 4pm CT titled Speaking for Leads.
To register, visit
www.ducttapemarketingconsultant.com/profitable-consulting
.
Getting up in front of a room of hot prospects and wowing them with your brilliance is a surefire recipe for lead generation and conversion success for any coach or consultant. During this live session John Jantsch, author of Duct Tape Marketing, will share the exact approach he used to build a successful consulting practice using nothing but free workshops.
This session includes best tips for:
How to get sponsored to speak
How to make the most of every speaking event
How to turn attendees into hot prospects
If you're new to coaching or consulting or you're a seasoned pro this session is sure to provide you with a proven road map for turning speaking events into paying clients.
Visit
www.ducttapemarketingconsultant.com/profitable-consulting
to register for the December 5 Profitable Consultant Series session – Speaking for Leads.
The Profitable Consultant Series is for marketing and business consultants and coaches looking for actionable and profitable tips for growing their business. Each month, the Profitable Consultant Series features a free, 30-minute training topic and live Q and A. Participants will also receive a downloadable guide each month that contains tools, links and resources from the call.
Upcoming topics include:
Speaking for Leads – December 5, 2013
Develop Your Personalized Lead Engagement System – January 9, 2014
5-Step Public Relations Starter Plan – February 13, 2014
Building a Strategic Partner Platform – March 13, 2014
Winning the Local Search Game – April 10, 2014
For a full description of upcoming topics Profitable Consultant Training, visit:
www.ducttapemarketingconsultant.com/profitable-consulting
.
About Duct Tape Marketing Coach LLC
Duct Tape Marketing Coach, LLC is an international organization of independent marketing consultants and digital agencies that utilize Duct Tape Marketing products and programs to help small business owners develop and follow a systematic approach to marketing producing predictable and consistent results. For additional information, visit
www.ducttapemarketingconsultant.com
or call 866-382-8273.
Email Duct Tape Marketing Coach