Comedy Defensive Driving Warns Texas Drivers About "Voluntary" Federal Survey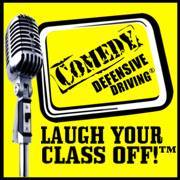 Fort Worth, TX - Comedy Defensive Driving, the
award- winning classroom and online defensive driving school
, seeks to educate Texas drivers about a federal roadside survey being conducted by the National Highway Traffic Safety Administration. The NHTSA National Roadside Survey requires that federal contractors collect saliva, breath or blood samples, to help determine the number of inebriated drivers on the nation's roads. The NHTS insists the survey is 100% voluntary and anonymous.
However, controversy has erupted over the possibly coercive collection methods used to obtain the samples. Several complaints have been launched by Texas drivers, who were recently pulled over by law enforcement officers and asked to submit their breath, saliva or blood tests for the survey. Though still technically voluntary, the nature of the situation can intimidate drivers into compliance. Many of these drivers reported feeling significant pressure to allow officers to take a specimen, to avoid possible legal consequences for refusal.
In Texas, police can only obtain specimens from people once they are under arrest, as per Transportation Code sections 724.011 and 724.012, which states "One or more specimens of a person's breath or blood may be taken if the person is arrested and at the request of a peace officer having reasonable grounds…"
Comedy Defensive Driving reminds Texas drivers that if they are pulled over by federal contractors or local law enforcement officials for the sole purpose of conducting the federal survey, it is within their legal rights to refuse submission of breath, saliva or blood specimens for testing.
About Comedy Defensive Driving:
Comedy Defensive Driving is a popular driving school offering both online and classroom courses. Established in 1989, Comedy Defensive Driving has since served over 2.5 million customers around the country. Their award-winning courses offer an easy, quick and fun way to complete defensive driving courses or traffic school (BDI & TCAC). Their programs are state approved. Comedy Defensive Driving is BBB Accredited. For more information on local and national driving standards, access to award-winning classroom and online Texas defensive driving courses, driving safety tips, and more, visit their website or follow them on Facebook, Twitter or YouTube. For more detail please visit,
www.comedydefensivedriving.com
.
Email Comedy Defensive Driving