Life Technologies' Successful New Webinar Learning Series with BioConference Live Goes On Demand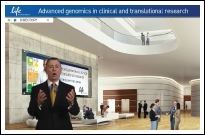 November 26, 2013 - Life Technologies has developed a new
webinar learning series
to help researchers and clinicians stay updated on the most recent developments in science. This quarterly webinar series will focus on topics in translational research and clinical diagnostics including pharmacogenomics, infectious disease, advances in cancer research, inherited disease research, biomarker discovery and validation, companion diagnostics, reimbursement, assay validation and QC.
The first event in the series, "Advanced Genomics in Clinical and Translational Research," took place November 20, 2013 and in now available On Demand for people that missed the live broadcast. This event brought together translational researchers, clinicians, laboratory professionals and Life Technologies scientists from around the world to learn about advances in genomic analysis research.
Life Technologies presents a line-up of four genomics
experts
now available for on demand viewing:
Mark Borgman, PhD., Director of Clinical Laboratory Operations at PGXL Laboratories: Dr. Borgman oversees the development and deployment of molecular diagnostic tests, laboratory information systems, and testing technology. He presents a comparison of genotyping platforms for pharmacogenetic testing.
George A. Green IV, Ph.D., Director, Pharmacodiagnostics, Bristol-Myers Squibb: Dr. Green delivers a talk titled: "Pharma/Diagnostic Partnerships in Companion Diagnostic Development."
Nicole Coustier Littmann, Vice President of Client Services, Quorum Consulting: Nicole Littmann is a leading expert in development and implementation of reimbursement strategy for innovative medical technologies, with over 15 years of experience in health care and public policy, 10 of those years in reimbursement consulting. Ms. Littmann discusses reimbursement for molecular diagnostic assays.
Dan Rhodes, PhD., Head of Medical Science Informatics, Life Technologies: Dr. Rhodes has a 12-year track record in cancer genomics and bioinformatics, with a significant focus on building systems to enable cutting-edge cancer research. He delivers a talk titled: "Tools to accelerate biomarker screening for CDx."
Conference participants are able to attend the taped video sessions, browse a virtual Life Technologies booth, and earn free
Continuing Education credits
. This conference offers a unique opportunity as it is free to participants, and there are no out-of-pocket expenses for travel. However, participants still benefit from learning about progress in their field without leaving the comfort of their office or home.
A full agenda and speaker bios can be found
here
.
About Life Technologies:
Genetic information is rapidly transforming the future of healthcare by enabling accurate and affordable diagnosis and prognosis, targeted treatments, and monitoring solutions.
Life Technologies
is committed to providing reliable and easy-to-use solutions, services, and support to meet the demanding needs of your work.
About BioConference Live:
Founded in 2009, BioConference Live's vision was to connect the scientific world leveraging a unique virtual platform, discovering meaningful collaborations across geographic boundaries and fields of expertise. BioConference Live has grown into the world's largest producer of virtual events within the Life Sciences and Clinical Diagnostics community.
LabRoots
is the owner and producer of BioConference Live, and is the leading scientific networking website designed to connect all science verticals. For more information, visit
www.labroots.com
or follow them on Facebook, Twitter, LinkedIn, or Google+.